Baldwin teachers rewarded for innovative thinking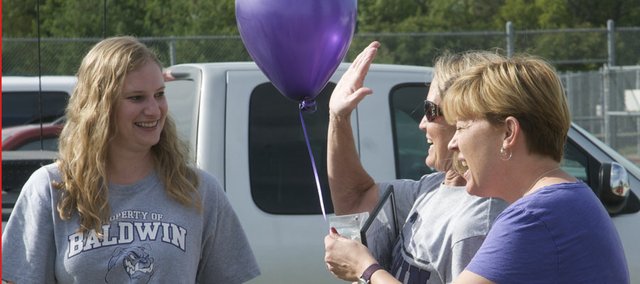 Betsy Ulrich and Barbara Schwering were so impressed with the results of a special needs camp they witnessed last summer that they wanted to duplicate it in Baldwin City.
The camp in Topeka taught special needs children how to ride bicycles. Ulrich, a special education teacher at the Baldwin Elementary School Primary Center, and Schwering, an occupational therapist at the school, estimated that they could attract about 40 children to a Baldwin City camp if they had the money to offer it.
They got a boost in that effort Friday when they learned that their application for a Baldwin Education Foundation Innovative Project Grant was one of 25 selected for funding. On Friday, a "Pawz Patrol" of foundation board members and Superintendent Paul Dorathy went to Baldwin's four schools, awarding 25 grants totally $16,212.
Baldwin Education Foundation Executive Director Kathy Gerstner said the foundation's board selected the grants from 30 applications.
"The board was extremely pleased with the number and quality of all grant proposals," she said. "We had a record number of applications this year, so we had some very difficult decisions."
Ulrich and Schwering said they were pleased that their application was among those funded. It will provide 10 percent of the funds needed to have the bike camp, they said.
2013 BEF Innovative Project Grants
Erik Bailey, 7th Reading, Nonfiction Literature Circles, $750. Presented in partnership with Baker University.
Laura Beaulieu & Sheila VanderTuig, BHS, Mardi Gras Diversity Day, $750.
Jill Boyle & Rita Tutschulte, BES-IC Library, Bullpup Book Club, $600. Presented in partnership with Baldwin State Bank.
Sheryl Burggraf & Kathy Johansen, 6th Reading and Language Arts, iPad's in the Classroom, $700.
Bonnie Butell-Huntoon, BHS English, The Lost Art of Letter Writing, $270.
Will Cooper, BHS Band, Pyware 7.1, $650. Presented in partnership with Baldwin City Lions Club.
Kathy Dorsey, BES-IC Reading, Better Readers Read More, $500.
Debbie Ellebracht, BES-PC Music, Continuation of D.R.U.M, $750. Presented in partnership with LifeTouch Photography.
Holly Gaylord, BES-PC Physical education, KaZAM Balance Bikes, $600. Presented in partnership with Mid America Bank.
Kim Gilbert, Seven-grade science, Virtual frog dissections, $750.
Chistiana Gilley, BES-IC Music, Green Chimneys, $745.
JoAnn Heins, BES-IC 4th, Centers for ELA and mathematics, $736.
Teresa Hiatt, BES-IC 3rd, Bringing Writing to Life, $750.
Susie Martin & Katie Marten, BHS, BHS Re-cycling & Special Education Job Training, $500.
Catherine Maxon, BES-IC 4th, The Daily 5: Work on Writing, $748.
Beth Nelson, BHS Music, Recording Concerts from the iPad, $435. Presented in partnership with Mar Lan Construction
Nancy Parr, BES-IC 4th, You Want Me to Teach What? $718.
Danita Price, BES-IC 4th, Qrazy for QR Codes, $738.
Stephanie Ramirez, BES-PC 2nd, iTouchs for Learning, $750.
Barbara Schwering & Betsy Ulrich, BES-PC, I Can Shine Bike Camp Initiative, $750.
Rachael Smith, BHS English, Finding the Right Book for the Right Student, $750
Carolyn Stansberry, BES-PC Reading, Reading Fluency, $575.
Marilee Valentine, 8th History, Props for History, $266.
Heather Wallsmith, BES-IC 5th, Elemental QR Codes, $748.
Ted Zuzzio,BJHS Physical Education, BJHS strength and conditioning, $684. Presented in partnership with Rodrock Chiropractic.
"Winning the grant has given us a big vote of confidence in proceeding with our efforts to host a bike camp in Baldwin," Ulrich said.
The grant funding will provide such things as $270 in materials for Baldwin High School English teacher Bonnie Butell-Hutton's class project on the lost art of letter writing, $750 toward high school teachers Laura Beaulieu's and Shelia VanderTuig's annual Mardi Gras Diversity Day for area special needs children, and $700 for a virtual frog dissection program for Kim Gilbert's seventh-grade biology class.
The Pawz Patrol was always a fun day, Dorathy said. The fun for students would come as the teachers brought the projects to classrooms, he said.
"This is important because we are able to bring extra things to our classrooms that our teachers want to do to help kids," he said. "These grants are innovative ideas for student education, so these are new ideas to share with kids in the classroom."
Gerstner said the Pawz Patrol was the pay off for the foundation's fundraising and awareness efforts.
"We gave away more than $16,000 this year," she said. "That's the highest amount we've ever given away. Of course, we couldn't do this without tremendous community support."
The record amount was awarded in a year when state funding to public education has stagnated, Gerstner noted.
"We said we were saving it for a rainy day. This is a rainy day."