Douglas County Dental Clinic's free dental day to be biggest yet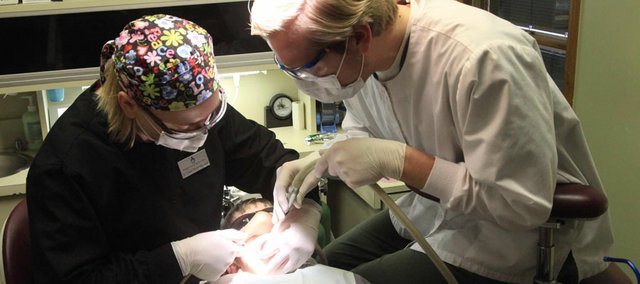 The Douglas County Dental Clinic will hold its sixth annual Free Dental Day on Friday, and organizers say it will be the biggest one ever.
The county dental clinic's new office at 2210 Yale Rd. will enable more dentists to participate this year. Fifteen dentists and an oral surgeon will offer their services at no cost to patients who cannot afford to pay.
Clinic Executive Director Julie Branstrom said organizers hope to provide free services to about 100 people this year.
"We wish we could have Free Dental Day more than once a year, but it is too big of an undertaking," Branstrom said. "So it feels better if we can help more people on that one day."
Screening will begin at 6:30 a.m. and will continue until 4 p.m. Branstrom expects patients to line up as early as Thursday night to receive the free dental services.
"The need for dental care is huge," Branstrom said. "The are about 20,000 uninsured people in Douglas County, and even more without dental insurance."
While Medicaid covers dental care for children, Free Dental Day is the only way for many low-income adults to get dental care.
Dr. Nealy Newkirk has participated in Free Dental Day for three years and said she enjoys donating her services because it is her way of contributing to Douglas County.
"When you have a skill you can share, you're kind of obligated to do that," Newkirk said. "When you're a part of a community, it is your duty to give back."
Other dentists offering their services include: Dr. Matthew Krische, Dr. Keith Van Horn, Dr. Ryan Brittingham, Dr. Richard Valbuena, Dr. John Hay, Dr. Marvin Heinbach, Dr. Galen Van Blaricum, Dr. Ed Manda, Dr. Cheryl Biesterfeld, Dr. Kelly Farmer, Dr. Saher Ahmed, Dr. Jerell Wilson, Dr. Allyson Dodds and oral surgeon Dr. Philip Gaus.