BHS

volleyball stays hot in sweep of Tonganoxie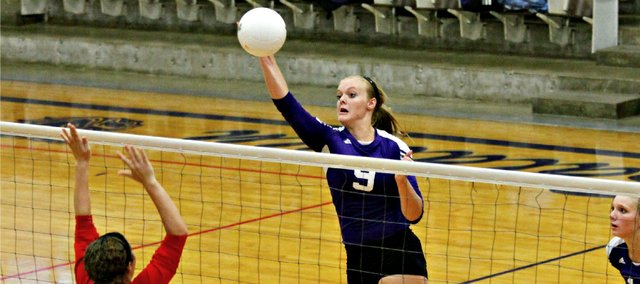 The Baldwin High volleyball team kept its hot start to the season alive Thursday against Tonganoxie, winning the home dual in straight sets, 25-15, 25-6, 25-12.
The Bulldogs (9-1), who haven't dropped a set since their season-opening loss against Basehor-Linwood, took a while to heat up in Thursday's battle with the Chieftains (1-3), but once they found their footing, they easily dispatched of the Kaw Valley League opponent.
BHS led by just two points midway through the first set, 15-13, but reeled off a set-ending 10-2 run to gain the early advantage. Several service errors allowed Tonganoxie to stick around before the decisive scoring burst.
"An area of concern again tonight would have to be our serving," coach Jull Brown said. "Corey Valentine was the only server with a positive serving efficiency tonight. That's something I would like to see improve."
Baldwin's momentum from the late run carried over to the second set, in which the Bulldogs allowed THS to score consecutive points just once.
The teams battled early in the final set, but Baldwin broke open a 4-4 tie with 7-1 run and gradually pulled away to cap off the sweep.
Jordan Hoffman and Morgan Lober paced BHS with 16 and 10 kills, respectively, and Alexia Stein added eight. In addition to her strong serving performance, Valentine finished with a team-high 29 assists. Meanwhile, Madeline McCrary led the way with 11 digs.
"As a team, we passed the ball well tonight with a service rating of 2.6," Brown said. "Because of that, we were able to be aggressive attacking the ball."
Brown added the Bulldogs finished with a team hitting efficiency of better than .500.
BHS will be back in action at 8 a.m. Saturday when it hosts the Baldwin Invitational Tournament.