Baldwin stays undefeated with 7-3 soccer win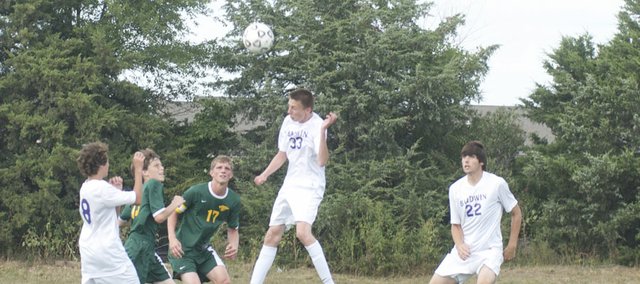 Early in its match Thursday against Basehor Linwood, the Baldwin High School soccer team found itself in an unusual position — behind.
The Bobcats took the early lead on a long kick from along the sideline right of the goal. The Bulldogs came back to take the lead and ended up winning the match by a comfortable 7-3 margin, improving its season record to 5-0-1.
But coach Mark Joslyn wasn't pleased with the team's performance, particularly on defense. The team had recorded two-straight shutouts, including a grueling double-overtime scoreless tie Tuesday against De Soto.
"I think we were a little bit down today," he said. "It was disappointing we gave up some many goals. That's not what we do. We gave up a corner kick. We haven't done that in two years."
The team needed to work on its defensive concentration and working the ball side to side on offense.
"That's when we play well, like we did in the second half," Josyln said.
Offensively, the team did get it going in the first half, leading 4-2 at the break. Joel Dixon got the team on the scoreboard, and Duncan Murray followed with a score. Senior Nick Joslyn ended the Bulldogs first-half scoring on a penalty kick after Austin Chapman got the team's third goal on a header off a corner kick.
The second half was all Baldwin. Senior Russell Cloon scored two breakaway goals, the first on a nice assist from Chapman. Freshman Noah Buckley scored the Bulldogs' final goal.
Cloon's two goals came after he came away empty on three solid shots on goal early in the second half. Coach Joslyn said Cloon was positioned to play closer to the Basehor goal when the ball was on the Bobcats' side of the field.
"I can see the game better and see tendencies," Cloon said of the different positioning. "I can see where my teammates are, too.
It was good to get the first goal in the net, Cloon said. He's missed on recent opportunities against Spring Hill, K.C. Piper and De Soto.
The senior co-captain agreed the Bulldogs were a little down in the game but was happy with where the team was for the season.
"We're undefeated," he said. "I think we're playing well. We can get better. There's still a lot of games to play this year."
Next up for the Bulldogs is a Monday match against Frontier League Eudora.