Baldwin, De Soto battle to scoreless draw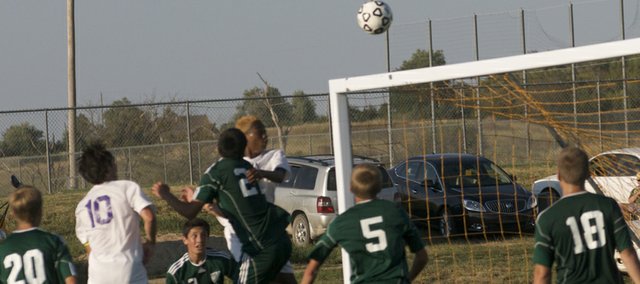 Baldwin and De Soto played a match Tuesday worthy of the two top soccer teams in the Frontier League, even if it was short of offense.
The Bulldogs and Wildcats battled to a double-overtime 0-0 draw at Baldwin's field. The tie left the Bulldogs with a 4-0-1 record overall and 2-0-1 in the league.
De Soto accounted for Baldwin's two regular season losses last year. The second of those defeats, a1-0 overtime loss, gave the Wildcats last year's league championship.
With the sting of those losses in mind, the Bulldogs pointed to the De Soto matchup through the pre-season and early schedule.
Baldwin Coach Mark Joslyn admitted his team was disappointed in Tuesday's outcome. But he pointed out, the Bulldogs didn't lose and were the more aggressive team.
"Sometimes the final score doesn't tell the full story," he said. "We played a terrific second half. Almost the whole half was played on our side of the field."
Baldwin had multiple shots on goal that didn't find the net. That included a headed ball in the second overtime that hit the top of the crossbar before bounding over the net and a flurry of Baldwin shots in the match's final minute that were somehow blocked or wide, including a final kick that sailed just to the left of the goal as time expired.
De Soto is a great defensive team, Joslyn said. But the Bulldogs matched them in that part of the game. De Soto did get some shots on goal, but the Wildcats' attacks never, save one in the second half, seemed threatening. In chasing down and thwarting the attack of two breakaway De Soto players in front of the Bulldog goal, Hunter Young made the most memorable play of the match. The senior middle-back defender said he was just doing what he was coached to do.
"If someone moves out of place then someone has to step in. I stepped in and kicked the ball out of bounds, and then we made our way back up field," he said.
Young said the team was disappointed with the tie but not disheartened. The Bulldogs would prevail when they play De Soto again, he said.
Baldwin steps out of Frontier League action to play Basehor Linwood on Thursday at home. Coach Joslyn expects a tough match from a team the Bulldogs defeated 1-0 last year. The action starts at 4 p.m. at the BHS field north of the high school parking lot.