Baldwin High School Class of 2013 posts big jump in
ACT

scores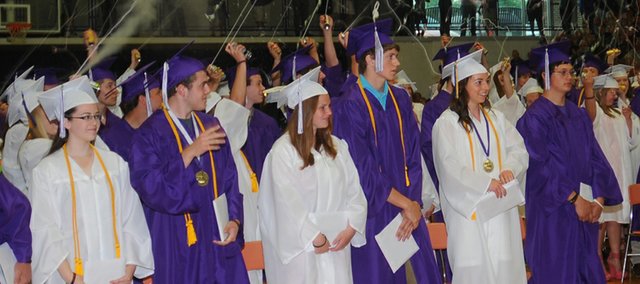 The Baldwin High School class of 2013 outpaced their state and national peers on ACT tests.
Baldwin's 2012-13 seniors earned a composite score of 23.8 on an ACT scale of 1 to 36, said USD 348 Superintendent Paul Dorathy. That was two points better than the state's composite score of 21.8, which bested the 20.9 national score.
The class of 2013 also improved on the score of 23.1 that the class of 2012 posted, Dorathy said. It was the fifth-straight year of improvement since 2009.
"In the period of time, we've made pretty darn good progress," Dorathy said. "I feel like we are preparing students for college. There might be exceptions, but as a group they are ready to move on to college."
But even with that track record of improvement, last year's scores were impressive, Dorathy said.
"We had a very strong academic class last year," he said. "That's not to say previous classes haven't been, but last year's seniors seemed to be a group who were very focused on academics."
That was also the view of Baldwin High School Principal Rob McKim, who said student achievement always starts with the students and parents.
McKim said he shared the results with this year's seniors and challenged them to maintain the school's trend of improvement.
"We've improved my three years at the high school," he said. "They do not want to be the class that ends that."
While giving credit to the students and parents, the superintendent and principal said the steady improvement also reflected changes the district has made at the high school, including adding to the quality and quantity of college level and advanced placement courses.
"With the advanced placement courses, we got our teachers more training, and that helped them make those courses more rigorous," he said. "You have to give credit to the students, but we are doing a better job of preparing our students for college."
Seventy students out of a little more than 100 students in last year's senior class took the ACT test, Dorathy said.
While making efforts to improve college preparedness for students who choose that path, the district also wants to prepare those on alternative career tracks.
This year, the district is transporting students to vocational education classes that Neosho County Community College offers in Ottawa and to Washburn Tech in Topeka, Dorathy said.
He noted that some vocational programs offering an associate's degree require the ACT.