Baker theater to revisit 9/11 with 'New York'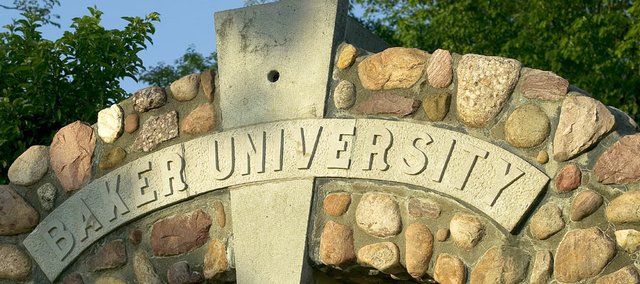 Every now and again, a play comes along that is revealing not only in its subject matter but also in its performance. The writing of it and the performance of it open our eyes to things we only partially understood.
"This is a story I really wanted told," says Patti Heiman, who's directing Baker University's new production of "New York."
'New York'
If you go
"New York" runs Wednesday through Sunday at Rice Auditorium on the Baker University campus. Curtain is 7:30 p.m. except Sunday when it is 2 p.m. Admission is free but donations are suggested.
The money raised will benefit the Muscular Dystrophy Association to be donated in the name of the firefighters, and also the Cy Middleton Memorial Fund, which helps police officers and their families who are stricken with illness or death. The fund supports members of police departments across Kansas.
The play is the work of David Rimmer, who wrote it in response to the need for psychologists to treat survivors of 9/11. Hundreds of volunteer therapists made themselves available to work with those affected directly by the infamous terrorist attack. Rimmer authored the play to help raise money to pay them and to bring in more.
Interviewing therapists to get material for his play, Rimmer discovered two things. First, many patients were suffering from survivor's guilt — they felt bad they were alive while someone else they knew had died. Second, a large percentage of these patients were first responders — the police and fire crews who braved building collapses and dust clouds to try to rescue the helpless.
"So many of them thought about the people they couldn't save," Heiman says, "or colleagues who died that day."
The Baker production is aimed at benefitting first responders locally.
"We're having a silent auction on opening night, September 11," Heiman says. "The proceeds from that will benefit MDA, which is the charity of choice for police and fire departments. We're also accepting donations every night for the Cy Middleton Memorial Fund, which helps police officers and their families when they are stricken with severe illness and sudden death."
The play, though, is about 9/11, and the people in it are New York survivors. That doesn't stop it from fitting here in Kansas.
"I understand that sense of ownership," Heiman says about New Yorkers feeling 9/11 is their tragedy, not the rest of the nation's. "I'm a native Louisianan, and Hurricane Katrina feels more personal to me. But this story is about grieving and the healing process. We're not trying to take something from (the survivors); we're trying to understand what they're feeling and help. We don't know what to do, but we'll tell your story.
"What comes out of (the action of the play) is that many survivors felt somehow responsible. They feel they should have gotten there sooner or done more to help or died instead."
Of course, the intentions may be pure and honorable, but there's a complication. This is university theater, so, with one exception, the actors were all pre-schoolers at the time of the attack.
"They've lived it," Heiman explains. "They've lived it through their parents' lives. Their parents reacted and changed in response to what happened, and they've seen that."
That didn't eliminate the need for research, though.
"I instructed them to ask older adults about their experiences," Heiman says. "But I told them to watch how (the older adults) talk about it. Don't just listen to their words. Watch their expressions and their body language. I wanted them to really understand the impact it had. That really helped them relate."
Heiman notes that the transformative effect of 9/11 is less in the details and more in the perception of it.
"The impact is not actually remembering the play-by-play of that day," she says. "It's the shock that we thought this couldn't happen to us."
And she says her students were "hungry for information." One cast member was adamant that she make sure the proper respect was shown.
"It's amazing how much they are discovering they didn't know," Heiman says.
The true lesson seems to be embedded there. The students and hopefully the audience come to understand there is more to a tragedy than a body count.
"I want everyone to understand, with this play we're talking about a horrific event, but the damage is not just to the victims but to the survivors," Heiman says. "Does it speak to an audience today? Yeah. This is still going on. People are still suffering."
That's why she really wanted to tell this story. That's why she feels, 12 years on and hundreds of miles away, it's important to revisit this subject. It's critical to show respect and to take some ownership of it.
"I guess we keep it alive as long as these survivors need us to keep it alive," she says.