Baldwin cruises to easy 46-12 win at Wellsville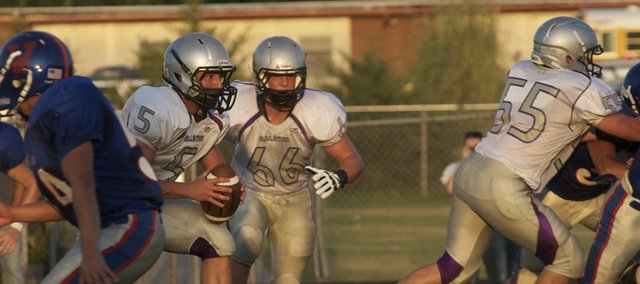 Wellsville — Baldwin scored on its first seven possessions Friday while holding Wellsville to a single first down, earning an easy 46-12 season-opening victory.
Senior quarterback Chad Berg led Baldwin on seven-straigh scoring drives as the Bulldogs built a 46-0 lead. Berg, who missed much of his junior campaign with a broken chin, ran for touchdowns of 66 and 3 yards and threw scoring passes of 35 and 14 yards.
Meanwhile, the defense shutdown the Eagles, giving up just a single first down until reserves entered the game late in the third quarter. On two-straight Wellsville possessions bracketing the end of the first quarter, the Eagles lost yardage. Sophomore Joel Katzer, his twin brother Jake Katzer, senior Tucker Clark and senior Matthew Torneden all tackled opponents behind the line of scrimmage during the stretch.
The two defensive stands set up Baldwin short-field drives, which put the Bulldogs up 26-0 with 5:05 to play in the second quarter.
While the Bulldog offense took advantage of the good field position the defense provided (overcoming two false-start flags in the second short drive), it also scored on sustained drives of 67, 54, 57 and 70 yards.

"We have a lot of experience on this team, and I think it showed tonight," coach Mike Berg said. "I thought for the most part we came out with a lot of intensity and good execution, but we lost focus. That was the thing I was a little disappointed about because I feel like the game is not very long and we should be able to stay focused throughout the game."
The BThe team regained focus with the opportunity to run its hurry-up offense after getting the ball on its own 46-yard line with 1:25 to play in the first half. After Berg and senior Cornell Brown runs of 12 and 16 yards, Berg connected with senior Luke Fursman on two-straight passes, the second a 14-yard scoring strike with 12 seconds remaining on the clock.
Wellsville avoided the shutout with a pair of 62-yard late touchdown runs by Brett Osburn.
Coach Berg said the team would work on keeping focus throughout the game as it prepares for its home and league opener Friday against Paola.
"If we didn't have anything to work on next week, then practice wouldn't be any fun," he said. "It's what I told the kids. I think we played well tonight in stretches, but we have things we have to get better at.
"Paola's a different horse. They are a Frontier League team and in our way of a Frontier League championship, which is one of our goals this year. We have to get better in a hurry."
Baldwin (1-0) 12 20 14 0 – 46
Wellsville (0-1) 0 0 6 6 – 12
Baldwin scoring: Jake Katzer 1-yard run, PAT failed; Chad Brown 35-yard pass to Cornell Brown (2-point conversion failed); Brown 25 yard run (Matt Michels PAT kick); Tucker Clark 1-yard run (Michels PAT kick); Berg 14-yard pass to Luke Fursman (PAT kick failed), Berg 3-yard run (Michels PAT kick), Berg 66-yard-run (Michels PAT kick).
Wellsville scoring: Brett Osburn 62-yard run (PAT kick failed); Osburn 62-yard run (PAT kick failed).