New Baldwin
SRO

making meeting students a priority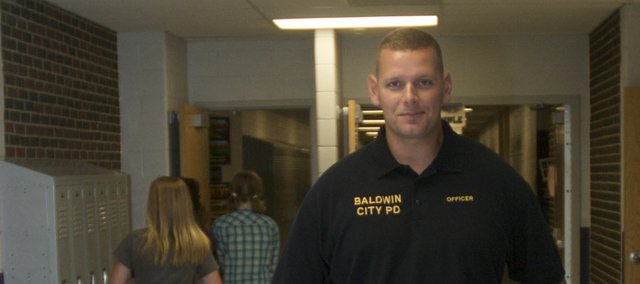 After two weeks in his new job as school resource officer, Baldwin City Police Officer Kyle Bulmer is getting to know the students in Baldwin schools and familiarizing himself with the layouts of the four buildings he is helping to protect.
Bulmer took the position as school resource officer after the school district and city agreed this summer to jointly fund it for the next three years. A previous joint agreement to fund the SRO ended four years ago when federal grant money ran out.
The SRO position was a job he wanted, said Bulmer, the father of an 8-month-old daughter. "I've always liked working with children," Bulmer said. "A lot of people shy away from juveniles, but I think it's extremely important to provide a positive law enforcement role model for that age group."
Baldwin City Police Chief Greg Neis said Bulmer was an easy choice for the new position.
"He's personable and likes children," he said. "You want someone there who will mingle. He had an interest in the position, so I let him run with that interest."
When city officials discussed the position with the school board earlier this year, Neis told board members the SRO should not be viewed as a district security officer, because one officer could not be at all district schools at one time.
Nonetheless, the armed Bulmer's daily activities include actions meant to make the district's four schools safer. He checks parking lots and entry doors and visits all schools on an unpredictable time schedule, he said. He made it a priority to learn the layout of the schools so that he can respond quickly to emergencies,
On Friday, Bulmer was casually dressed in khakis and a short-sleeve shirt as he went about a day that had him taking part in an afternoon dodgeball game at Baldwin Junior High School.

Bulmer visits schools when students are in hallways changing classes or going to lunch. He also eats at different schools so that students will be aware he's around.
"I've been trying to let them know I'm here and get used to my presence," Bulmer said. "I'm doing anything I can do to build a rapport with them. I hope every kid knows they can come to me, no problem."
Another early focus was to meet with teachers to discuss law enforcement issues, Bulmer said.
In recent years, Cpl. Kim Springer of the Baldwin City Police Department has taught classes in schools on such topics as latchkey children and sexual assault. Bulmer said he would sit in on those classes this year before taking them over next year.
He has talked to a few parents about minor problems, such as students being late or skipping school, Bulmer said. Overall, the response from parents to the SRO presence has been positive, he said.
"All the parents have been very supportive," Bulmer said. "They want an officer in schools because of all the attention school shootings have been getting. I encourage parents anytime they have questions to contact me."