Downtown Baldwin City storefront being remodeled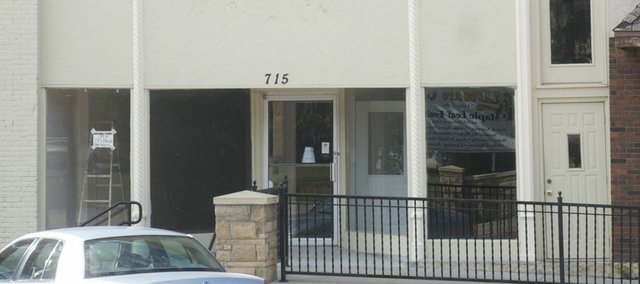 Two empty downtown Baldwin City storefronts are about to be filled while another came open at the end of August.
Alan and Amy Wright recently purchased the storefront at 715 High St. from Ed and Joanne Kite. The ground floor space is being remodeled into two office spaces, Alan Wright said. One will be the home of his wife's property management agency, Living Spaces LLC, he said.
"She's been doing that from the home, but it was time she moved into her own office," Wright said.
Potential tenants have express interest in the other half of the building but they have not yet leased the space, Wright said.
The Baldwin City Recreation Commission leased the building's ground floor from the Kites for the past four years before moving Aug. 1 to 711 High St. The building was home to an antique store before that. It was the Flipper Dipper ice cream parlor and arcade games shop in the 1970s and early 1980s and a diner in the 1960s.
Wright said he would like to learn more of the history of the storefront, including who built it and when, so that he can give the building a name.
Wright is also a partner with Rick Dietz, Bill Harmon and Dave Hill in the renovation of the two-story brick structure on the northwest corner of Sixth and High streets. The East Central Kansas Cooperative in Education will move into the building in October.
The cooperative will occupy the east side of the building's ground floor, Hill said. The somewhat larger west side has been leased to an antique dealer who will consolidate the items he has on consignment in various stores in his own shop.
The upstairs is being remodeled into four apartments, which should be available for lease Nov. 1.
Work on the two ground floor spaces is to be finished Oct. 1. Hill said the partners plan an open house at the building Sept. 28.
It's not all good news downtown. The Bulldog Bakery that Brian and Trenda Garrett opened in October 2012 at 719 Eighth St. closed its doors last week. The family was moving to Florida and was ready for something different, Trenda said.
Diane Niehoff, who owns the building with her husband, Jim, said they have fielded calls about the vacancy and will start advertising this week to fill the storefront. They hope to find a retailer for the building, she said.