City, partners purchase new sound system for downtown Baldwin City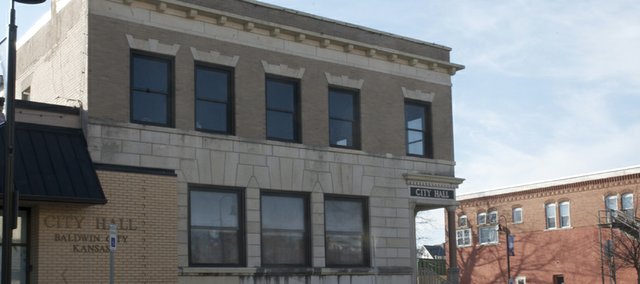 A new public address system should be in use by next month's Maple Leaf Festival after action the Baldwin City Council took Monday.
The council approved spending up to $10,000 on a new downtown sound system for use at the festival and other events. City Administrator Chris Lowe said he anticipated the city's cost would be less than $9,000 because he expects the Maple Leaf Festival Committee and Baker University to share the cost.
The city has received commitments from the Baldwin City Chamber of Commerce, Baldwin City Recreation Commission, the Economic Development Council and Baldwin State, Kansas State and Mid-America banks to share in the cost of the $19,600 sound system, Lowe said. Baker and Maple Leaf representatives have indicated that they, too, want to participate but need their respective boards to approve the expense.
Reflective Group's Dawn Fiber developed the system's specifications, specifically for outdoor use. It would make use of wired and wireless technology to provide sound on High Street from Sixth to Eighth streets. Dawn Fiber also got a bid from MSM Systems Inc. to install the system.
The current sound system makes use of indoor speakers, which quickly deteriorated, Lowe said.
The proposed new system is designed so that it could be extended in the future along Eighth Street, Lowe said.
The controls would be placed in the chamber office at Eighth and High streets so that the entities that joined in the purchase or any outside organization could use the system, Lowe said. Music from the Internet, CDs and MP3 files could be played on the system, he said.
In other business, the council:
• Approved hiring urban planning consultant David Knopick to review the city's building codes and development processes to ensure they are "development friendly." Knopick said he would consult with city staff, local developers, planning commissioners and council members during his review, which should be completed in about four months. The contract is not to exceed $15,000.
The goal is to arrive at streamlined processes, codes city staff can enforce and codes and standards that support quality development, Knopick said.
• Approved lowering the speed limit on Washington Street to 20 mph.
• Agreed to engage Collection Bureau of Kansas to help collect $86,000 in past-due utility bills. The firm will receive 25 percent of a successful standard collection and 30 percent of those involving court action, said Brad Smith, city financial manager.