Baldwin soccer improves to 2-0 on season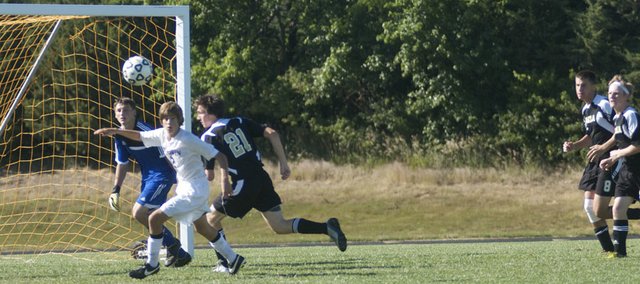 The Baldwin High School boys soccer team shutout an overmatched Paola squad Tuesday to gain its second victory of the young season.
Baldwin scored early and often and was ahead, 5-0, after the first 40 minutes. The second half was more of the same, and the Bulldogs built a 7-0 advantage before coach Mark Joslyn pulled most of his regulars about midway through the final period.
The win coupled with Friday's 5-3 victory at Tonganoxie, the defending 1A-4A state runner-up, improved Baldwin's record to, 2-0.
Tuesday's match was played almost entirely on Baldwin's side of the field, as the Bulldogs took the ball away from the Panthers at will.
"They are young," coach Joslyn said.
Although Baldwin might not be able to rack up quite as many turnovers against better, more mature teams, the takeaways did come from an aggressive defense Joslyn installed this year.
"We want to keep in on our half and when the other team has the ball, take it away as fast as we can," he said.
On offense, the Bulldogs showed a willingness to share the ball, passing from side to side to breakdown the defense. Six different Bulldogs — Russell Cloon, Brendan Owings, Duncan Murray, Joel Dixon (two goals), Noah Buckley and Nick Joslyn — found the net for Baldwin.
"We outmatched them, but it is better to play as a team against a team like that," coach Joslyn said. "The first half of the Tongie game we played like that. The difference was Tongie had one shot on goal and they made it."
Baldwin was obviously the more physical team Tuesday, and Joslyn said the Bulldogs matched up well with Tonganoxie, a squad known for its physical play. Tonganoxie did lose some of its players, but he said his team was more physical with a year's maturity.
Better tests for the team will come Thursday at Spring Hill and, especially, when De Soto visits Tuesday.