Baldwin City 5-year-old fills red wagon to fight hunger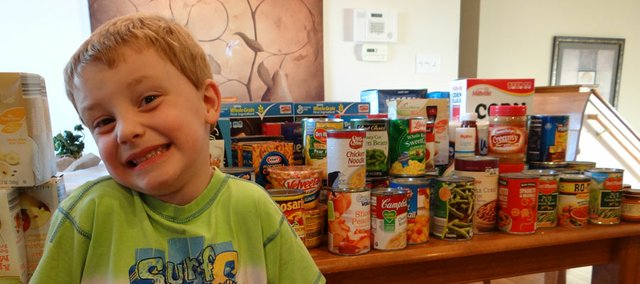 Not much for words, 5-year-old Jack Best lets his actions speak for him.
On Saturday, Jack and his mother, Candi Best, delivered food to the Baldwin City Community Food Pantry that he had gathered during a recent door-to-door effort in his neighborhood of the Fire Tree Subdivision.
The seed for the idea was planted in Jack's mind when a couple of young people stopped at the Best's home to leave a bag for food pantry donations, Candi Best said. She gave those young people food for the pantry, then explained to her son why such drives were needed.
About three weeks later, Jack told his mother he wanted to give stickers he received during a doctor's office visit to children who needed them.
"I told him that was a good idea, but that I should take them to the hospital to be given out to kids," Best said.
Giving that some thought, Jack then said that nobody really needed the stickers, but suggested another way he could help others. He said he wanted to go door-to-door to collect food because he didn't want anyone to be hungry.
"He told me he would ask for the food, but he wanted me to go with him because he was too scared to ring doorbells," Best said.
It was the example of the solicitors who had knocked on their door a few weeks earlier that inspired him, Jack said.
"I'd been thinking about it the whole time," he said.
Jack and his mother went door-to-door Aug. 24 with the boy's red wagon. With his mother at his side, he found the courage to ring doorbells and asked residents for food.
"He said, 'I'm Jack and I'm collecting food for the hungry,'" his mother said. "He was so adorable, everybody gave him something. We had to go home once to unload the wagon before we went out again. I made him stop because it got too hot."
Mother and son took the canned goods and boxed food Thursday to Baldwin First United Methodist Church, the site of the Community Food Pantry.
"It filled a whole shopping cart," said Laura Dickinson, coordinator and volunteer at the food pantry.
Community youngsters in the past have raised money at lemonade stands or food from class drives, but Jack was the youngest to have an individual drive, Dickinson said.
Best said she promised Jack they would go on another door-to-door drive when it cools down. Meanwhile, she's proud of her son.
"That was a parenting win," she said. "I'm proud of him. He just didn't want anyone to be hungry."