USD

348 board agrees to tranfer district's operating account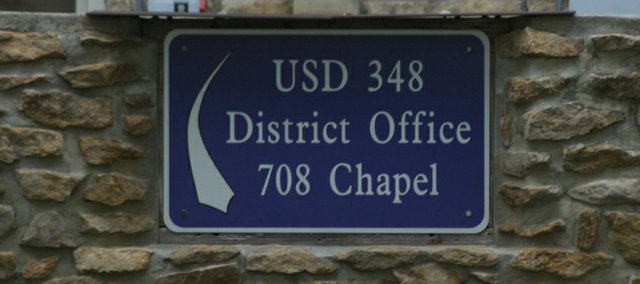 Three months after staff first recommended the move, the Baldwin USD 348 Board of Education unanimously approved transferring the district's operating account to Kansas State Bank.
Cynde Frick, district financial operations director, in July proposed transferring the account from Baldwin State Bank to Kansas State Bank. At that time, Frick said the transfer would make the district's financial operations more efficient because the computer technology at Kansas State Bank was more compatible with the district's.
Board members balked at that time because Frick arrived at her recommendation through conversations with officials at the three banks. After tabling the discussion in July, they asked Frick in August to develop a written request for proposals on which they could base a decision.
The responses to the district's requests were shared with the board Oct. 21. The requests asked the Baldwin City's three banks, Baldwin State Bank, Kansas State Bank and Mid America Bank to list such things as financial statements, Community Reinvestment Act ratings, fees, interest rates on accounts, deposit services, monthly statement and analysis procedures and policies on availability of funds. Also requested was information on online banking services and a number of services the district doesn't use but would like to consider. One of those, remote deposit, is offered at Kansas State Bank and Mid America Bank with computer platforms compatible with that of the district.
Frick said there was no measurable difference in the three banks' interest rates, which were all tied to market rates, and fees were comparable. In recommending the transfer to Kansas State Bank, Frick cited the bank's experience in handling large accounts, including that of the Ottawa school district at its Ottawa branch, and said it was in a position to expand services to meet future district needs.
Board member Sandy Chapman said the concern in July was the lack of anything concrete shared with the board to justify the transfer. That issue was addressed through the request for proposals process, she said.
Chapman said she would have been comfortable selecting any of the three banks, but Frick's recommendation was important because she was the district staff member with the most day-to-day interactions with the district's bank.
Board members Chad Christie, Sheryl Gill and Nicole Tiller joined Chapman in voting to transfer the account. Board members Greg Kruger, president of the Kansas State Bank, Ivan Huntoon, who recently resigned a position at Baldwin State Bank to take a job at Baker University, and Nick Harris, whose wife is on the board of Baldwin State Bank, recused themselves from the discussion and vote.