BHS

boys bring home regional cross country title, girls runner up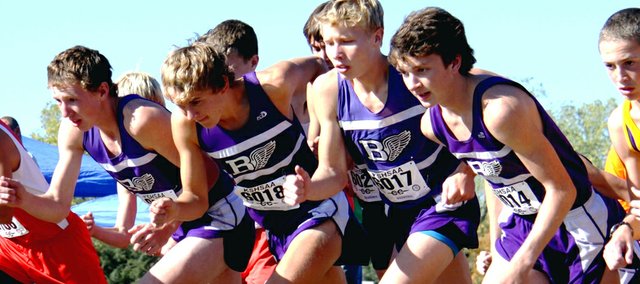 The Baldwin High School boys cross country team finished first and the girls second at the regional meet Saturday at Ottawa. With their finishes, both teams qualified for the state meet Saturday at Wamego.
The boys team was an easy winner at regional with 31 points. Host Ottawa finished second with 61. The girls team finished with 55 points, which was second to Paola's 41.
Coach Mike Spielman said he was pleased with the results.
"Our goal for regionals are always to get qualified for state," he said. "We did that.
The kids did a great job on the course, especially since it was the second time they ran it."
Sophomore Dakota Helm added the individual title at the regional to the Frontier League championship he won a week earlier. Helm finished the 5K course at the regional with a time of 17:16.65.
Fellow sophomore George Letner was second (17:43.91), and Joe Pierce fifth (17:47.03). Sophomore Nevin Dunn finished 10th (18:07.24) and sophomore Zach Smith was the final Bulldog to score with a 12th place finish at 18:10.62.
Noticeable in his absence among the Bulldogs' top-five runner was Ethan Hartzell. Spielman said the senior was held out of the regional to rest a sore knee. With the team qualifying, he will run in Wamego as the boys vie for the state title.
The top-five Baldwin girls completed the course in a tight pack with 48 seconds separating eighth-place Mackenzie Russell (16:49.20) and Hannah Hutton in 14th-place (17:37.19). Addie Dick was 10th (17:04.18), Daelynn Anderson 11th (17:11.83) and Libby Verhaeghe 12th (17:13.99).
The state meet will once again be contested at the Wamego County Club. The boys will run at 10:30 a.m. Saturday and the girls will run at noon.
"Both teams have a great chance to bring home a trophy on Saturday," Spielman said. "We just need to go out and do our jobs."