Baldwin rips Coffeyville, 8-0, to advance in regional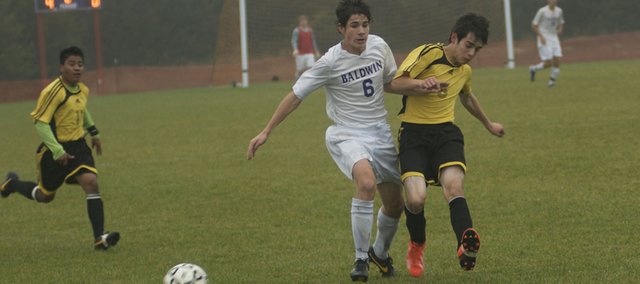 The Baldwin High School soccer team advanced to the 1A-4A regional finals Tuesday with an 8-0 victory against Coffeyville.
The match was what could be expected when a 14-1-1 No. 1 seeded team squares off against the 7-9 winner of a play-in game. Coffeyville defeated winless Riverton on Monday to earn the right to play Baldwin.
With the win, Baldwin (15-1-1) will play Ottawa at 3:45 p.m. Thursday at home in the regional finals. Should Baldwin defeat Ottawa for the third time this year, it would have another opportunity to play at home in the first round of the state tournament.
Baldwin went up early in Tuesday's match played on a rain-soaked field when Karily Fiske scored. Two more goals would follow in the first half from Joel Dixon and Noah Pippert. Senior Nick Joslyn added two goals in the first 10 minutes in the second half. Russell Cloon, Nate Clem and Caleb Othick finished the scoring for the Bulldogs
Coach Mark Joslyn said his team played aggressively and forced Coffeyville to defend it side of the field for nearly the entire match.
"We did a better job of finishing than we have recently," he said. "I say that and we had numerous shot hit the goalie in the chest."
Probably the only suspense in the second half was whether the Bulldogs finished a physical game on a wet field without any injuries.
"The field played better than it looked," Joslyn said. "We had pretty good grip out there."
Despite the two wins against Ottawa, Joslyn is not looking past the Cyclones.
"We beat Spring Hill twice pretty easily last year and struggled to beat them 1-0 in the regional finals," he said. "It will be a tough match for us."