5 questions: Protecting the Kaw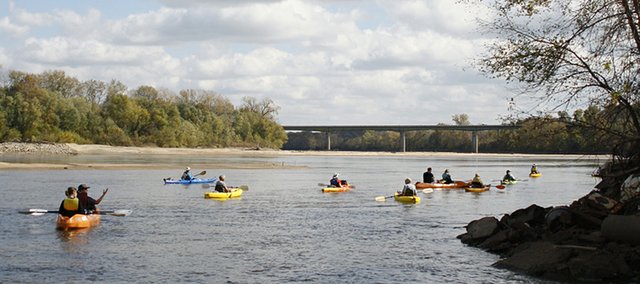 The Friends of the Kaw work to protect and preserve the Kansas River. Laura Calwell, Kansas Riverkeeper and executive director for Friends of the Kaw, talks about the organization below.
Q: Why is monitoring the river important?
A: The Kaw provides drinking water for more than 800,000 people and irrigation for area farmland. The Kaw Basin is also home to at least six threatened and endangered fish species.
Q: What are some other interesting facts about the river?
A: The Kansas River is the world's largest sand bed prairie river system The Kaw Watershed drains more than 53,000 square miles, including large sections of Kansas as well as parts of Nebraska and Colorado. It begins at the confluence of the Republican and Smoky Hill rivers and flows 170 miles to Kansas City, where it joints the Missouri River.
Q: How can the general public use the river?
A: The Kaw is public property; you can paddle on it and even camp on its sandbars. We only recommend novice paddlers float the Kaw from May through October and when river levels are low. There are more than 20 public access points, and the Department of the Interior recently designated the Kansas River Water Trail as part of the national recreational water trail system.
Q: Can I take a guided river trip?
A: We are now scheduling float trips for the 2014 season from mid-April to mid-October online at kansasriver.org.
Q: How can I contribute to Friends of the Kaw?
A: We accept donations through our website and have some fundraisers throughout the year. Our next fundraiser is our Annual Dinner and Silent Auction 6-9 p.m. Nov. 5 at Tortas Jalisco, 534 Frontier Rd., Lawrence.