Baldwin blows out Santa Fe Trail in district play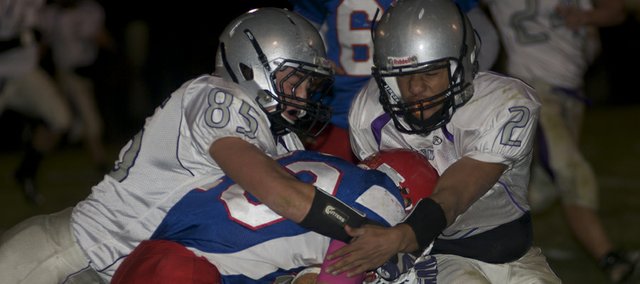 OVERBROOK — For the second-straight week, the Baldwin Bulldogs scored more than 40 first-half points while scorching an opponent in 4A district football.
The Bulldogs scored six touchdowns in the first 24 minutes of Friday's game at Santa Fe Trail on its way to a 49-7 victory. With the win, Baldwin improved its record to 8-0 and 2-0 in district play. Santa Fe Trail fell to 1-7 for the year and 0-2 in district action.
"We just have so many weapons," coach Mike Berg said. "It's fun to coach these guys. Everybody gets along on this team. They are happy when somebody is successful."
Cornell Brown was the big weapon early. The senior got the Bulldogs on the scoreboard with 8:15 to play in the first quarter on a 25-yaad touchdown run behind a block from senior Quinn Twombly.
After Baldwin got the ball back with a short field on an interception from senior Colton Stark — one of four passes the Bulldog defense would pick on the night — Brown scored again to end a 38-yard six-play drive. Brown then jumped in front of a Charger pass and ran 44 yards into the end zone, making the score 21-0 with 2:41 to play in the first quarter.
Brown's final touchdown came on 40-yard touchdown pass from senior quarterback Chad Berg on the Bulldogs' next possession. Brown came back to the ball, picked himself off of a would-be Charger defender and raced to the goal line.
The Bulldogs added two more touchdowns in the first half on a four-yard run from sophomore Jake Katzer and a 90-yard touchdown off a scramble from Berg.
After shutting down Santa Fe Trail on a three-and-out to start the second half, Baldwin mounted a four-play 55-yard touchdown drive. Katzer finished the drive with his second touchdown of the night on a five-yard run.
The Baldwin coaching staff then started substituting reserves as the clock ran non-stop with the Bulldogs ahead by more than 45-points in the second half.
The Bulldogs narrowly missed their second-straight shutout when Santa Fe Trail scored on the last play of the game.
Baldwin gave up only 59 yards of total offense to the Chargers. Santa Fe Trail could muster only 10 yards rushing on 21 attempts and connected on just 6 of 25 passes for 49 yards.
Baldwin will play for the outright Frontier League title and district championship Thursday against rival Eudora. The Cardinals, 5-3, will be looking to keep their post-season hopes alive after losing Friday to Ottawa, 32-19.
The Bulldogs also will be playing to finish the regular season undefeated for the first time in Berg's 17 years as coach of the team.
"One game from our goal," Berg said. "I think our kids are enjoying it for what it is. We told them that this week, 'Enjoy the journey.' We're not going to be together that much longer. We hope for another month."
Despite Eudora being down this year, it was still a good team that entered the night with only two losses, Berg said.