Baldwin boys first, girls third in league meet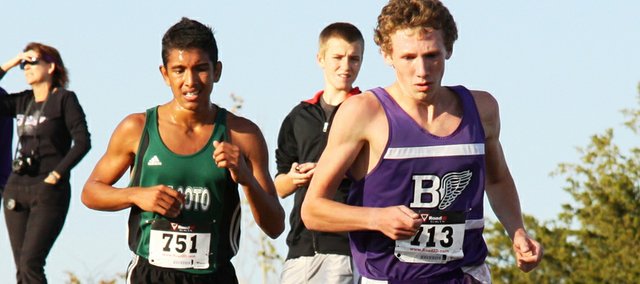 The Baldwin High School boys cross country team won the Frontier League championship last Thursday in Ottawa, while the rapidly-improving girls team finished third.
The boys finished with 35 points, half that of second-place Ottawa. The girls went into the meet knowing they would be facing strong De Soto and Paola teams. De Soto won the event with Paola finishing second, but the Baldwin girls were a factor.
"The girls have really closed the gap on De Soto and Paola," coach Mike Spielman said. "We still need to keep getting better, but we are in the hunt with them."
The boys prevailed in a tactical race, Spielman said.
"It was a hilly course and they went out slow and were able to make the teams that went hard pay for it," the coach said.
Dakota Helm of Baldwin was the Frontier League individual champion. His time on the 5K course of 17:04.03 was more than nine seconds slower than his winning time at the Sabetha meet a week before, showing the effects of the hilly course. Junior Joe Pierce, sophomore George Letner and senior Ethan Hartzell were fifth, seventh and ninth, respectively. Sophomore Nevin Dunn was the final scoring runner for the Bulldogs, finishing in 13th place.
Sophomores Addie Dick and Mackenzie Russell paced the Bulldog girls, finishing seventh and eighth in the 4K race with times of 16:37.35 and 16.44.18, respectively. Freshman Daelynn Anderson was next across the finish line for the Bulldogs in 10th place. Seniors Hannah Hutton and Libby Verhaeghe were the final two scoring Baldwin runners, earning 12th and 15th place finishes.
The experience the teams earned on the course will serve them well when they return Saturday to Ottawa for the regional meet. Paola will be among the schools in the 16-team field, but De Soto will compete elsewhere.
The girls race will be at 2:30 p.m. and the gun for the start of the boys race will be fired at 3 p.m.