Baldwin City Council authorizes city administrator to sign contract for construction of library expansion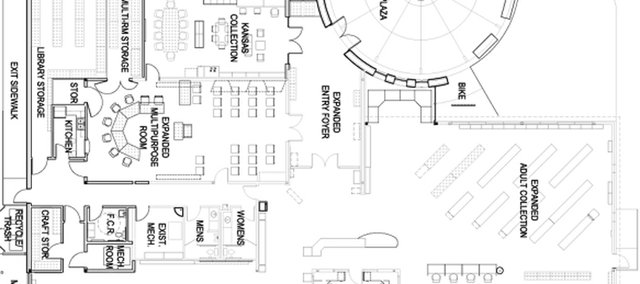 Ground should be broken for the Baldwin City Public Library expansion within two weeks with one remaining issue to be resolved.
On Monday, the Baldwin City Council authorized City Administrator Chris Lowe to sign a contract with Gene Fritzel Construction, the low bidder to construct a 3,200-square-foot extension to the library. Lowe said a prepared contract was given to the Lawrence contractor, but it wasn't returned in time for Monday's meeting.
Lowe said he would only sign the contract if the contractor didn't make any substantial changes to the document, which he didn't anticipate.
Lowe said he requested the authority so that the project could get underway. The contractor had indicated it wanted to break ground Nov. 1, or before the council's next meeting on Nov. 4. The contractor is eager to get started during warmer weather on the expansion it has agreed to complete in 158 days, he said.
Architect Ray Zimmerschied, of Lawrence, said Fritzel Construction submitted the lowest base bid of $638,000 when 10 bids were opened Oct. 10. The construction price tag increased to $653,245 when the Baldwin City Public Library Board added items to the project. The most expensive of those was a new roof for the entire library and the replacement of the building's current inadequate air conditioning/heating system, he said.
The new construction figure exceeded the architect's construction estimate of $620,000. With the higher construction cost, the project's total price tag is now $777,000, Zimmerschied said.
The city and the library board are jointly funding the expansion. The board committed $120,000 to the project when the City Council approved the expansion in February and will use money in its reserve fund to pay for the increased cost.
The city issued $500,000 in bonds earlier this year to help with the project and would limit its participation in the expansion to that figure with one exception, Lowe said.
The library board agreed to forego installation of decorative bricks in a new entry courtyard with the construction cost increases. The council approved Lowe's request to find $9,500 in city funding for the feature.
Plans that the library board approved in June will add 3,220 square feet to the library with an L-shaped expansion to the south and west. The Kansas and local history collections will be moved to the new addition. The space those collections now occupy will be home to an expanded young adult section.
The project will also provide a meeting room adequate for the Baldwin City Council and municipal court. A private consultation room for executive sessions will also be included