Baldwin City Council approves resolution stating its intent to issue industrial revenue bonds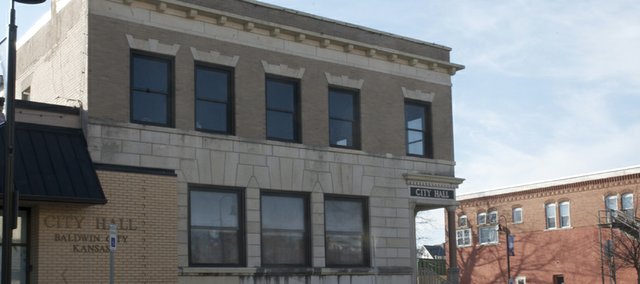 The Baldwin City Council approved a resolution on Monday stating its intent to issue up to $5 million in industrial revenue bonds to help bring gigabit fiber optic Internet to the city.
The action came at the request of Dawn Fiber LLC, a company that the owners of Reflective Group Inc. formed in June for the purposed of bringing gigabit Internet to Baldwin City, Lawrence and other communities.
Reflective Group CEO Mike Bosch told the council a gigabit fiber optic system could be serving city customers 90 days after the industrial revenue bonds were issued.
The resolution the council approved Monday was the first step in that process, City Administrator Chris Lowe said. The resolution didn't obligate the council to issue the bonds. A final decision would be made after a required public hearing on the bond transaction, he said.
With Monday's action, Dawn Fiber can start putting in place the details of the bonds, which would be shared at that future public hearing. With passage of the resolution, the company can reimburse itself for expenses it incurs in that process from future bond proceeds.
Industrial revenue bonds are an economic development tool that allows developers to enjoy lower interest rates. The city would own the assets financed through the bonding while the debt was retired. That ownership provided the basis for a property tax abatement and sales tax abatements on construction materials used for the project.
In response to questions from the council, Lowe said the amount and duration of the property tax abatement were dependent on where Dawn Fiber would build its office and other details to be put in place. That information would be made available to the council and the community at the public hearing, he said.
The bonding could be used for such things as bringing fiber optic cable to the city, establishing connectivity in the community and an office, Lowe said.
Dawn Fiber would be required to present a cost/benefit analysis justifying the abatement at the public hearing, Lowe said. State law also allows the council to require payment in lieu taxes should it approve the tax abatements.
Lowe said the abatements would only be on the city's share of taxes owed and would not apply to the Baldwin school district or Douglas County.
State law forbids the city from levying any tax to pay for the bond's principal or debt service. Additionally, in the case of default, bondholders can only look to the assets created with the bonds or any third-party guarantors and not the city. As such, a default would not but the city at risk or affect its credit rating, Lowe said.