Maple Leaf Festival shines with wonderful fall weekend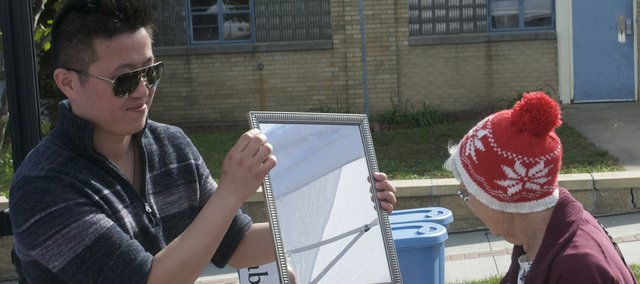 Late on Sunday afternoon, Bert Molenda took stock of her eighth year as a vendor at the Maple Leaf Festival.
"Sunday was a little bit slower than yesterday, but it's been good," the Gardner woman said. "It seems like people are spending more than they were a few years ago."
That was what she was hearing from many of the vendors at the festival, said Donna Curran, Maple Leaf Festival Committee vendor coordinator.
The consensus was Sunday traffic was off a bit from 2012, but Saturday was a huge day. Curran estimated attendance Saturday and Sunday was in the 30,000 range.
The festival got off to a rough start with the rain Friday that wiped out that evening's carnival and washed away the chalk numbers marking vendor booth locations, Curran said. The numbers were redrawn in 90 minutes and all was ready to go Saturday morning.
With that hiccup out of the way, the festival went smoothly. More importantly, it was a success for the crafters and local community organizations with booths, Curran said.
"All the vendors seemed pleased," she said. "There were a number who nearly sold out."
The Christmas decoration booth run by Eddie and Gerald Siscoe of De Soto and Richard and Judy Siscoe of Berryton was one of those. Their shelves were nearly empty late Saturday, giving them a chance to restock for more sales on Sunday.
"It's crazy this year," Judy Siscoe said. "People are buying more — I think because of the economy."
Amy Gislar, of Ottawa, who has had a booth at the festival for 13 years selling fudge, cookies and candies, said a willingness to spend was something she had noticed at other shows this year. However, she said the first day of Maple Leaf was exceptional.
"I think this was a record day overall and for us," she said.
Baker University's Kappa Sigma food booth, a three-decade fixture at the festival, enjoyed another successful year. For several hours Saturday, a line stretched across High Street as festivalgoers waited to buy turkey legs. Sophomore Sean Driskill said Sunday evening that the fraternity sold all of the 1,088 turkey legs purchased for Maple Leaf.
"Everybody is wiped out," he said. "I think everyone went right to bed last night when they got back to the house. But it feels good. We made a lot of money for the house."