Industrial revenue bond request on Baldwin City Council's agenda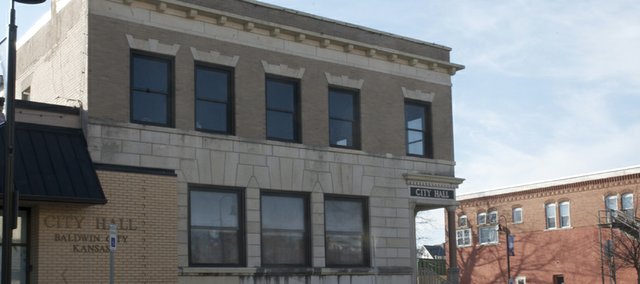 The Baldwin City Council will be asked to approve tonight a resolution stating its intent to issue $5 million of industrial revenue bonds to help finance installation of gigabit fiber optic Internet in the city.
The action came at the request of Dawn Fiber L.L.C., a company the owners of Reflective Group Inc. formed in June for the purposed of bring gigabit Internet to Baldwin City, Lawrence and other communities. With the passage of the resolution, Dawn Fiber must complete a cost-benefit analysis to present during a council public hearing on the bond transaction.
Industrial revenue bonds are an economic development tool that allows developers to enjoy lower interest payments for projects that benefit the public. The bonds create an arrangement under which the city would own assets financed with the bonds while the debt was retired, which provides the basis for tax and sales tax abatements during that period.
State law forbids the city from levying any tax to pay for the bond's principal or debt service. Additionally, in the case of default, bondholders can only look to the assets created with the bonds and any third-party guarantors. As such, a default would not affect the city's credit rating.
Dawn Fiber could be required to make payment in lieu of the property and sales taxes abated should the council approved the IRBs.
I. Call to Order: Mayor Marilyn Pearse
II. Consent Agenda: (All matters listed on the Consent Agenda are to be considered under one motion and will be enacted by
one motion. There is to be no separate discussion on any Consent Agenda Item. If discussion is desired by an elected official of the
City on any Consent Agenda item, then that item will be removed from the Consent Agenda and considered separately).
A. Consider the draft minutes of the October 7, 2013 Regular Meeting.
B. Consider Appropriation Ordinance No. 2013-10B: Claims Against the City for Goods Provided
and Services Rendered.
III. Special Reports or Presentations
A. Administer Oath of Office to Ken Wagner (Collin Bielser)
IV. Committee/Commission Reports
A. Public Safety Committee Meeting (Kathy Gerstner)
B. Community Development Committee Meeting (Shane Starkey)
C. Utility Committee Meeting (Jason Mock)
V. Unfinished Business

A. Consider Ordinance 1303 for a Conditional Use Permit at 208 Baker Street (Collin Bielser –
2nd Reading)
VI. New Business
A. Consider Resolution 2013-16, Issuing Taxable Industrial Revenue Bonds(Chris Lowe)
B. Authorize City Administrator to Enter Into an Agreement With Gene Fritzel Construction for
Library Expansion (Chris Lowe)
C. Accept Bid for a 2014 Police SUV Vehicle (Chief Neis)

VII. Public Comments and Questions
VIII. Discussion Items from Council Members or Staff (items not for action at this time)
IX. Schedule & Announcements
X. Executive Session

XI. Adjourn