Deer collisions can produce bounties for Douglas County residents on the 'deer list'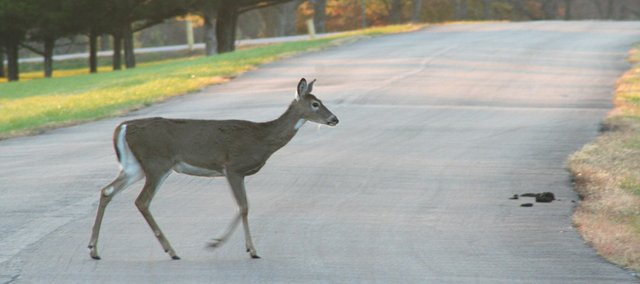 George O'Brien had just popped open a cold one and begun to get comfortable in his living room last Thanksgiving when the Sheriff's Department called.
"We've got a deer out here on 59 highway," O'Brien was told.
At the scene, a deer lay on the side of the road. O'Brien asked the deputy to hold down his truck's tailgate and, using an old ski rope, pulled the carcass into the truck bed. He was just about to return home when another call came. By Black Friday, O'Brien had two deer destined to become burgers, sausage, tanned hides and coyote bait.
"We don't let nothing go to waste," said O'Brien, a Lawrence resident, from his parent's rural property just south of town. "Here where I'm out at, it all goes to a good purpose."
O'Brien is one of five county residents on the sheriff's department's "deer list," a rotating list of volunteers called and offered the chance to pick up freshly hit deer.
Lt. Steve Lewis, a Douglas County Sheriff's Department spokesman, said the list has been in effect for the better part of at least 25 years. In its early stages, the list was simply a handwritten ledger. At some point, after the list became computerized, Lewis said it got deleted before being revived on the department's website two years ago. In the process, some of the list's names were lost and it dwindled from about a dozen names to five.
Last year, O'Brien picked up seven deer and, of that number, he was able to process at least 75 percent of six of the carcasses.
A disabled veteran with a limited income, O'Brien said the deer can go a long way.
"There's a reason behind the wildlife we got here," O'Brien said. "It wasn't put here to be a hassle for individuals, it was put here for us to enjoy and to put nutrition in our bodies. I think it's even healthier than some of the stuff we buy at the stores."
Speaking of which, Lecompton resident and deer-list member Timothy Kilburn said, have you been to the store lately?
Also disabled, Kilburn said one medium-sized deer can "take care of you for a month at least." A good year can fetch north of a half dozen deer, he added. That, plus anything Kilburn can get from hunting, goes into a deep freeze. Kilburn, who has been on the list for more years than he can recall, freezes most of the meat until the end of the hunting season, after which his family spends at least a day and a half in his garage processing the meat with a commercial meat grinder.
Lewis hopes public awareness will spur more Douglas County residents to volunteer to be on the deer list as peak deer-mating season is about to cause more deer-vehicle mishaps.
Douglas County residents can apply to be included on the list on the sheriff's department's website. Applicants must be 18 years or older with a valid driver's license or I.D. and have access to a vehicle.
"I just wish more people reported that they hit a deer so we can pick it up, get it off the road and feed somebody," Kilburn said.