Pleasant weather entices large crowd to first day of Maple Leaf Festival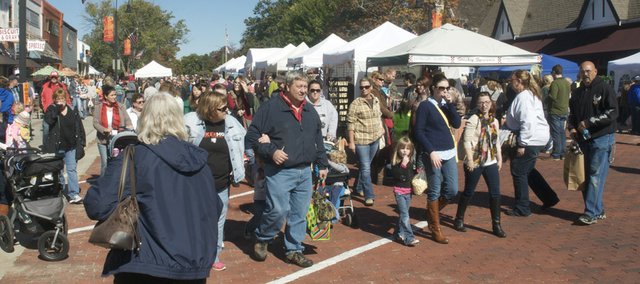 The Maple Leaf Festival Committee may not have a way to accurately peg attendance for the event but that doesn't mean its members don't have methods to gauge numbers. The committee refilled downtown portable toilets with two-and-a-half cases of bathroom tissue Saturday, more than was needed during the two-day festival last year.
The Kappa Sigma food booth at the corner of Eighth and High streets provided another number of the festival's Saturday activity. For the 30th year, the Baker University fraternity was back at the festival offering turkey legs. Resting in a chair just before the Baldwin First United Methodist Church bell tower chimed 6 p.m., junior Cole Turner said the booth sold 512 turkey legs Saturday or 32 cases. The fraternity had 91 cases with 16 legs each available for the weekend, so there's plenty left for Sunday when two grills will be fired up to meet demand.
A half block south on Eighth Street of the Kappa Sigma stand is the booth of Eddie and Gerald Siscoe of De Soto and Richard and Judy Siscoe of Berryton. The shelves of the booth of brothers Eddie and Gerald and their wives were nearly empty late Saturday of the crafted Christmas decorations they sell at the festival. Their plan was to return to their homes Saturday evening and gather whatever they had to restock their shelves for Sunday.
"It's crazy this year," Judy Siscoe said. "People are buying more — I think because of the economy."
The Siscoes weren't alone in noting that phenomenon. Amy Gislar of Ottawa, who has had a booth at the festival for 13 years selling fudge, cookies and candies, said it was something she's noticed at other shows this year. However, she said the first day of Maple Leaf was exceptional.
"I think this was a record day overall and for us," she said.