Baldwin blasts Ottawa to claim share of league title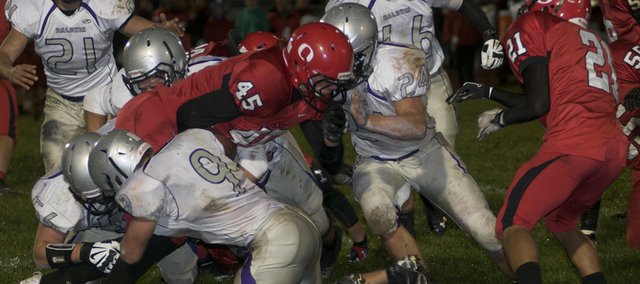 Ottawa — The third-ranked 4A Baldwin Bulldogs claimed at least a share of the Frontier League title Friday with a 61-0 victory against Ottawa High School.
With the win, Baldwin in 7-0 overall, 5-0 the Frontier League and 1-0 in 4A district play.
Coach Mike Berg acknowledged the accomplishment but wants more.
"That's not good enough," he said. "We're happy we are 1-0 in our new season. We told the kids, '6-0 in the first six is great, but these are the ones that really, really count.'"
With this team, Berg has every right to be selfish, especially considering strength Frontier League foes flashed in the first round of district play. De Soto was edged by a one-loss Bonner Springs team, while Eudora, Paola, Spring Hill and Louisburg stepped out of conference to win opening round district games.
Berg's players shared his greedy attitude on a chilly night in Ottawa, cashing in unsuccessful gambles by the Cyclone coaching staff.
Ottawa attempted to surprise the Bulldogs with an onside kick at the game's start. The move back fired, as Baldwin ground out an opening touchdown drive, capped off with a 1-yard run from sophomore Jake Katzer.
The Bulldogs then turned to the big play as they built a 42-0 halftime lead. Quarterback Chad Berg rushed for a 71-yard touchdown and connected with fellow seniors Cornell Brown and Tim Craig for scoring strikes of 45 and 42 yards. The first-half onslaught continued with rushing touchdowns from Brown from 18 yards out and 32-yard run from Katzer.
"It was our best first-half of the year offensively," Berg said. "There were some things we did that weren't perfect, but I'm proud of these guys.
"We had a lot of big plays. We have some guys who are fast, who can break it at any time."
Berg and Brown would hook up again in the third quarter on a 15-yard pass play, and Tucker Clark gave the Bulldogs on last big play with a 42-yard scoring run.
Coach Berg said the Bulldogs' success in the air came from taking advantage of Ottawa's attempt to stop Baldwin's powerful ground game, which entered the night averaging 392 yards per game.
"When people put that many people in the box, we have to spread out a little bit and throw it," he said. "I would proud of the guys ability to throw the ball and catch it."
Meanwhile, the Baldwin defense recorded its first shutout of the year, while giving the offense good filed position with two fumble recoveries, an interception and shutting down a punt fake.
Baldwin continues district play on the road next Friday against Santa Fe Trail. Ottawa plays at Eudora.
Baldwin 61, Ottawa 0
Baldwin (7-0, 5-0, 1-0) 14 28 13 6 - 61
Ottawa (3-4, 2-3, 0-1) 0 0 0 0 – 0
Baldwin scoring: Jake Katzer, one-yard run (Matt Michels kick); Cornell Brown 45-yard pass from Chad Berg (Michels kick); Berg, 71-yard run (Michels kick); Brown, 18-yard run (Michels kick); Tim Craig 42-yard pass from Berg (Michels kick); Katzer, 34-yard run (Michels kick); Brown 15-yard pass from Berg (Michels kick); Tucker Clark, 48-yard touchdown run (kick failed); Eric Peterson, two-yard run (kick failed)
Baldwin 61, Ottawa 0
Baldwin (7-0, 5-0, 1-0) 14 28 13 6 - 61
Ottawa (3-4, 2-3, 0-1) 0 0 0 0 – 0
Baldwin scoring: Jake Katzer, one-yard run (Matt Michels kick); Cornell Brown 45-yard pass from Chad Berg (Michels kick); Berg, 71-yard run (Michels kick); Brown, 18-yard run (Michels kick); Tim Craig 42-yard pass from Berg (Michels kick); Katzer, 34-yard run (Michels kick); Brown 15-yard pass from Berg (Michels kick); Tucker Clar, 48-yard touchdown run (kick failed); Eric Peterson, two-yard run (kick failed)