At least 10 bands to grace festival parade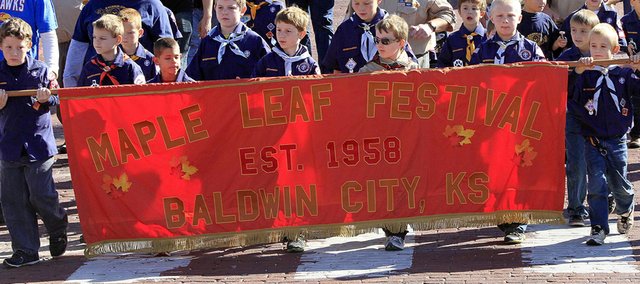 Floats, bands, animals, and other spectacles will march to the theme of "Whistle While You Work" during the Maple Leaf Festival Parade on Oct. 19.
The parade will begin at 11 a.m. at Third and High streets, head to Sixth and High streets, and continue north on Sixth Street. The floats will line up on Hillside Drive, while the other entries will gather on High Street. The animals will line up at Heritage Tractor, at 15 Industrial Park Rd.
The official deadline for float entries was Oct. 7, but Jeremy Rodrock, Maple Leaf Committee parade coordinator, said entries are welcome the day of the parade.
"We never turn anyone away, so if they come the day of the parade, we'll let them in," he said. "They just won't be announced." There is no charge to enter a float in the parade.
Rodrock said that in the past, the parade drew many outside participants.
"We get obviously community participation, but a lot of our participation comes from other communities, because Baldwin's so involved in the Maple Leaf Festival," he said. "There are a high number of fundraisers going on, so a lot of the community is involved in that aspect of the Maple Leaf."
One of the notable entries in the parade will be a new clown from the Baldwin City Lions Club. There also will be antique tractors from as far away as Iowa. The parade will have 10 to 12 bands from area junior highs, high schools, and universities.
"The fact that we have a large number of bands keeps a lot of excitement," he said. "That's my No. 1 request, is that everyone wants to be close to a band."
Rodrock asks that community members begin arriving at the parade route at about 10 a.m. so that the parade can get started and finished on time at 2 p.m..