Growing Sunday crowds helping drive Maple Leaf attendance numbers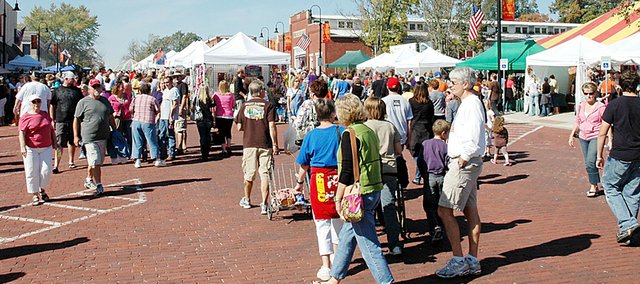 Darlene Newman will be a first-time vendor at the Maple Leaf Festival this year, but the Baldwin City resident says she knows all about the festival crowds.
"I have health problems and didn't want to fight the crowd," the Baldwin City resident said. "I went to the festival on Sunday last year, and felt like it was almost too much for me. It was about like Saturday's (crowd). I used to think Sundays were slower."
Although Maple Leaf Festival organizers agree there is no way to accurately peg attendance, they estimated the festival drew 40,000 people last year. While Saturday remains the festival's biggest day, driven by the parade, Sundays are drawing larger numbers and helping fuel the festival's attendance growth, longtime festival observers agree.
Martha Donohue, a festival vendor who travels to the Maple Leaf Festival from her Valley Center home just north of Wichital said the Sunday crowds are noticeably larger than when she and partner Kathy Mendenhall first had a booth at the festival six years ago. That has helped the partners sell more of the homemade dip, themed snack baskets, wood plates and bowls and hand-painted flowers they bring to Baldwin City, she said.
"We have found, especially with dips, people come back on Sundays to buy more product and a basket," Donohue said. "Sundays are good for us, and they are good right up to the last minute."
Donna Curran, vending booth coordinator for the Maple Leaf Committee, said the dry, mild fall weather during recent festival weekends has increased festival attendance on both of Maple Leaf's weekend days. But she remembers years, such as 2006, when Sunday saved the festival after an all-day rain washed out Saturday.
Donohue said having a second day was reassuring to vendors like her who drive a considerable distance to the festival.
Sharon Musick of Eudora, who has had a booth at the festival with her husband, LaVerne, for 20 years, said she, too, has noticed larger Sunday crowds, as have other vendors. They are adjusting by bringing more merchandise, she said, knowing that they will have customers on Sunday afternoon.
Sunday also is good for Baldwin City business owners. Kara Cole, owner of Cranberry Market at 111 Sixth Street, said Sunday crowds seemed to be more focused downtown, but she said one fact at her store revealed the value of Sunday to her business.
"Maple Leaf Sunday is the only Sunday we are open all year," she said.