Early applicants, unique crafters get edge at Maple Leaf Festival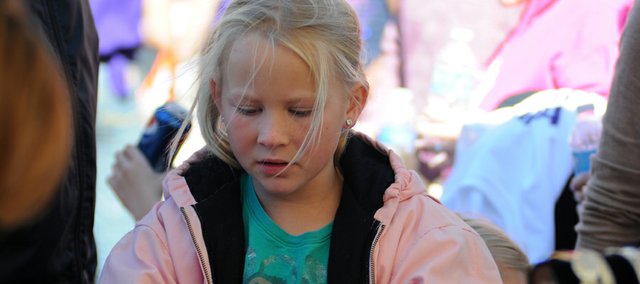 It pays crafters to be persistent or unique if they want to be part of the Maple Leaf Festival or improve their location at the festival's popular two-day arts and craft show.
Donna Curran, Maple Leaf Festival Committee booth coordinator, said 90 percent of Maple Leaf booth vendors return each year, and many sign up to do so before leaving Baldwin City on the Sunday of the fair.
"We always have 40 or 50 come in on Sunday to fill out paperwork and pay for the next year," she said.
Among the 300 booths expected at this year's fair are food booth mainstays near the festival's downtown epicenter of Eighth and High streets. Coming back at that location this year is the Baker University Kappa Sigma booth with its popular turkey legs and brats, the Baldwin City Lions Club booth with funnel cakes and the Annunciation Parish Knights of Columbus booth in front of City Hall.
Helping ease the demand for booth space is the BPW's craft show in the South Gym at Chapel and Eighth streets, which has room for another 20 to 30 booths, Curran said.
That is how Martha Donohue and Kathy Mendenhall got started at Maple Leaf. The two Valley Center women have had a booth the past five years in the gym, selling dips, themed snack baskets, wood plates and bowls and hand-painted silk flowers.
This year, they will be downtown in the Baldwin City Fire Station in the 600 block of High Street.
"It's an awesome opportunity for us," Donohue said. "I heard there would be an opening, so I asked Donna about it last year."
Donohue said the Maple Leaf Festival was one of the two best shows she and Mendenhall attend during their busy fall schedule. Not only is attendance good, but it is well-managed, she said.
Shirley and LaVerne Musick of Eudora are among the longtime vendors who return annually to a traditional spot. Shirley said they would be back this year on Eighth Street in front of the Baker University Library.
A Maple Leaf regular for more than 20 years, Musick is busy making angels, earrings, hanging kitchen towels, aprons and other crafted items she will bring to Baldwin City. Her husband will be selling birdhouses and woodcrafts, she said.
She enjoys the Maple Leaf Festival because she can visit with old friends among other crafters and in the community, but added that she didn't have much opportunity to wander far from her booth.
Curran said she did recruit vendors to fill the few open booth spaces available. To do so, she looks for vendors with unique items at other shows, and recently encouraged a craftsman with a booth at the Renaissance Festival to come to the Maple Leaf Festival.
Darlene Newman of Baldwin City said Curran recruited her this year after seeing her handcrafted hemp, cord and leather goods on Facebook
"Donna got in contact with me in June," she said. "I lucked out."
She was rushed to produce enough items for Maple Leaf, Newman said.
"If I sell out, I'll be happy," she said. "If I don't, I'll have enough for everybody."