Three Sisters Inn welcomes return to normal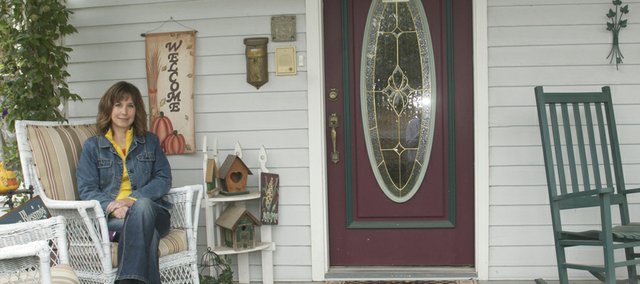 Shawna Garber wasn't bothered by the noise of traffic zooming past the parlor of her bed and breakfast Monday.
The owner of the Three Sisters Inn, 1035 Ames St., has heard worse as Hamm Construction has raced in recent weeks to complete the bridge on U.S. 56 that spans the creek on the east side of the inn's property.
"The last month or so, construction started very early in the morning and continued late into the evening," Garber said. "We had guests waking up before 7 in the morning on Saturday. The beep, beep, beep was very annoying."
The Kansas Department of Transportation project is nearly finished now. But from late April until Friday, the bridge replacement cut off the inn from the highway that fronts the property. Although not harmful to business, the construction did cause consternation as guests navigated a detour through downtown Baldwin City.
"We get very little drive-by business," Garber said. "Most people make reservations by phone or online. But we had a lot of confused people because of the detour. The signs the city put up helped a lot. (City Administrator) Chris Lowe was very helpful."
But all is back to normal now, and just in time for Garber to prepare for the guests who will fill the inn's six rooms for Maple Leaf Festival weekend.
The festival is just one of the events that makes fall one of Three Sisters' top seasons, Garber said. The other busy time of year is spring. Both seasons benefit from high school and Baker University events such as homecomings and graduations. Kansas University or Lawrence events also help business, Garber said.
"Whenever Lawrence fills up, people look around and find us," she said. "They find we're not too far away and a quaint place to stay."
"Quaint" is also a word visitors use to describe Baldwin City when they take in the community during stays, Garber said. She attempts to get them past such quick observations through learning their interests and pointing them to appropriate destinations, from area antique shops to historical sites, she said.

Garber understands the charm of the Three Sisters Inn, having decided with her husband, Kevin, to buy the 5,000-square-foot Queen Anne Victorian bed and breakfast when staying at the inn in 2006. Baldwin City residents Jim and Diane Niehoff bought the house built in 1903 to save it from demolition in 1993, moving it five blocks west from its original location before restoring it to its original splendor.
"Kevin and I stayed here in the dead of winter," Garber said. "We were looking around one evening, talking about all we could do with the place. The next morning, we were talking with Diane at breakfast and she said, 'You should just buy this place.'"
Already looking for the opportunity to move from Lenexa so their two young boys could attend smaller schools, the Garbers agreed.
Three Sisters is an event venue as well as a bed and breakfast. With an outdoor gazebo on its spacious grounds, it holds weddings, baby showers, family reunions, retreats and other special events. It's an arrangement that works well with Garber's background in wedding planning and her husband's career as a professional photographer.
Garber also caters out of Three Sisters and provides cakes to two local restaurants.
"I'm known for my carrot cake at the Baldwin Diner and red velvet cake at Antonucci's," she said. "I blow people's diets."
Seven years later, Garber is happy with the decision to take over Three Sisters.
"I have quite a bit of flexibility, and I'm close to my boys' elementary school," she said. "I've met a lot of interesting people and learned about their discoveries and adventures."