Senior night sparks stellar play from Bulldogs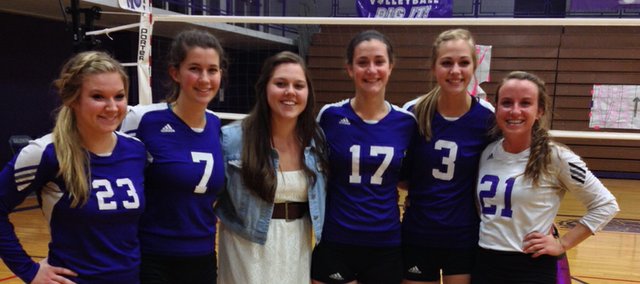 The Baldwin High School volleyball team concluded a busy week Tuesday with a senior-night, three-set sweep of De Soto (25-18, 25-18, 25-11).
The match was the second contest in four days between the two Frontier League rivals. On Saturday, Baldwin defeated De Soto in the finals of the 12-team De Soto Spikefest.
Baldwin coach Jill Brown said the Bulldogs got off to a shaky start Tuesday as they dealt with the emotions of senior night. Baldwin overcame a 10-5 deficit in the first set with an eight-point run with Emma Burnett serving. It wasn't the last big Bulldog run of the night. The team reeled off 12 straight points with Jenna Irey serving in the third set.
"We played extremely well tonight," Brown said. "It was one of those nights where everything was clicking for everybody. It was definitely the best volleyball we've played this season."
The team had a hitting efficiency of .430 and ended the night with 35 kills and only four errors. The Bulldogs saved the best for last, recording nine kills in the third set with no errors.
Individually, senior Morgan Lober and junior Jordan Hoffman had 10 kills. Junior Alexia Stein added nine kills with a .571 hitting efficiency. Emma Burnett had four kills and 2.8 serve-receive rating. Junior Corey Valentine had 27 assists and five digs, while senior Madeline McCrary had a 2.9 serve-receive rating on a 3-point scale.
At Saturday's Spikefest, Baldwin swept through pool play without losing a set, defeating Basehor-Linwood (25-18, 25-16), Lansing (25-19, 28-26) and Pittsburg (25-16, 25-22) The Bulldogs beat Jefferson County North in straight sets (25-14, 25-15) in the first round of bracket play before facing off against Class 5A Leavenworth. Baldwin dropped it first set of the day, losing 15-25 in the opening set before bouncing back to claim the next two sets 25-20, 25-11.
With the victory, the Bulldogs moved on the play De Soto in the finals. Once again Bulldogs lost the first set (17-25) before stepping up their game to claim and match and championship by winning the last two sets (25-14, 25-23).
It was the third tournament crown Baldwin has claimed this year. It earlier won the Frontier League and Wellsville Invitational tournaments.
Brown said it was a grueling, 10-hour day for the Bulldogs with matches against a number of good teams.
"I've seen teams in the past get to a point in the day where they're exhausted and maybe they don't care as much anymore," she said. "That would have been easy to do Saturday, especially with homecoming the night before. But this group would not allow that to happen. They probably played their best match of the day in the finals against De Soto."
Her team played most memorably through the fatigue wall against Leavenworth, Brown said. The team played poorly in losing the first set, giving up 10 points on hitting and serving errors and recording a hitting efficiency of .060. The hitting efficiency improved to .300 in the last two sets of the match and passing much improved, she said.
The first-set loss to De Soto was hard-fought, Brown said. The team overcame the deficit by tightening up its play, she said.
Stein led the Bulldogs with 48 kills, a .506 hitting efficiency, four blocks and four aces. Hoffman had 45 kills, a .305 hitting efficiency, 31 digs and three blocks, while Lober had 33 kills, a .333 hitting efficiency and five blocks. Valentine contributed 126 assists and five aces, and McCrary had 44 digs and five aces. Emma Burnett had 37 digs and 13 kills, and Jenna Irey had 22 digs.
The Bulldogs were the host of a triangular last Thursday that featured the No. 6 5A Topeka Seaman Vikings and Bishop Miege, the second-ranked team in 4A.
Both visiting teams downed Baldwin in two-straight sets, but Brown was much more pleased with the teams effort against Bishop Miege.
"We didn't pass well and weren't aggressive when we had the chance to be," Brown said of the Seaman match. "Playing top teams like Seaman, you have to earn points by being aggressive, they won't give you many points."
Her team appeared to be intimidated against Seaman, but played its game against Bishop Miege.
The team got off to a strong start in the second set against Bishop Miege, leading 12-6. The visitors caught the Bulldogs and scored four straight points after the score was tied 17-17, which Baldwin was unable to make up.
Stein had 13 kills and three blocks on the night, and Hoffman added 12 kills and seven digs. Lober had seven kills, while Valentine had 30 assists and eight digs. McCrary had 16 digs, Irey finished the night was a 2.6 serve-receive rating.
The team will step out of Frontier League play today for a match at Bishop Ward.