Maple Leaf statue set to be unveiled Friday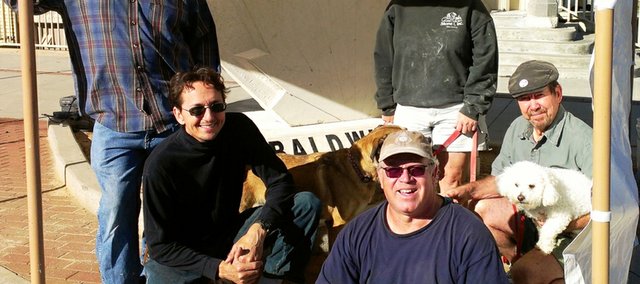 A very different kind of maple leaf from those colorfully covering the trees that line Baldwin City streets will be on display at this year's Maple Leaf Festival.
The maple leaf statue, carved by members of the Kansas Sculptors Association, will be unveiled at 10 a.m. Friday. The limestone statue has been placed at its permanent home on the southwest corner of Eighth and High streets in front of City Hall.
Kansas Sculptors Association President Don Nieto and member Mark Sampsel, the lead artist on the Baldwin City sculpture, will attend the unveiling. Baldwin City residents Matt Kirby, Dennis Engle and Forrest Waltman were among the association members working on the piece.
The statue is an abstract design and not an exact representation of leaves found in nature.
"I think people will be very happy with it," Sampsel said. "We had some very dedicated members work hard on the carve, and it shows."
The statue was to be unveiled during the Maple Leaf Festival itself, but the ceremony was moved to Friday to avoid the hubbub of the festival, Baldwin City Administrator Chris Lowe said. Lowe also said refreshments would be available in City Hall after the unveiling.
The statue wasn't completed as envisioned. The approved design had five scenes from the city's history carved on large leaf segments. Lowe said the sculptors determined it would be better to make brass castings of the scenes than to try to carve them in the small places available. If that were done, the city council would have to approve an additional appropriation, he said.
Last year, the city council approved $10,000 for the project, which was used to purchase the stones for the downtown statue and those used in a teaching symposium the association offered, as well as to pay for the sculptors' meals while they were in Baldwin City.