Baldwin pounds Louisburg, 51-14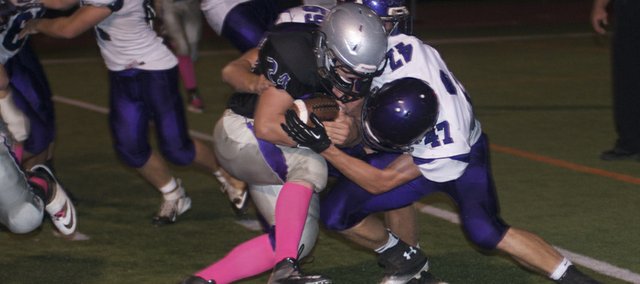 Undefeated Baldwin prepared for district football play with a 51-14 victory Friday against Louisburg.
With the win, Baldwin is 4-0 in Frontier League play and 6-0 overall. Louisburg fell to 2-2 in league play and 3-3 overall.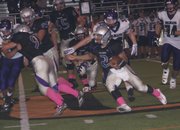 Baldwin came into the night averaging 388 yards rushing and quickly flexed its muscle on the ground as it built a 24-0 second-quarter lead on three rushing touchdowns. Running behind the offensive line of seniors Reece Randall, Colton Stark and Quinn Twombly and juniors Tyler Davidson and Christian Gaylord, the Bulldogs churned out 198 rushing yards in the first half and added 141 yards more on the ground in the second half before coach Mike Berg pulled his starting unit midway through the fourth quarter.
"The heart and soul of this team is our offensive line," Berg said. "We had some really nice extended drives, instead of getting big chunks of yardage from big plays."
The Bulldogs first offensive possession was one of those grinding drives. After receiving the opening kick, the Bulldogs rushed for 61 yards on 11 plays before the drive stalled on the Louisburg seven-yard line. Junior Matt Michels salvaged the possession with a 25-yard field goal.
Baldwin stayed with the ground attack on its next possession. The three-play drive ended with a touchdown when senior Cornell Brown recovered his own fumble in the end zone. Brown set up the score with a 54-yard run on the first play of the drive.
Brown set the Bulldogs up with a short field on their ensuing possession with a 23-yard punt return. The senior finished off the second-quarter drive with a four-yard rushing touchdown. The Bulldogs did get 20 yards on the drive through the air, as senior quarterback Chad Berg connected with seniors Luke Fursman and Tim Craig on consecutive plays.
Craig set up the Bulldogs' final touchdown of the first half with a pick of a Wildcat pass, which he returned to the Louisburg two-yard line. Sophomore Joel Katzer finished the two-play drive with a one-yard touchdown run. His twin brother Jake Katzer bulldozed over Wildcat defenders to convert a 2-point conversion, giving the Bulldogs a 24-0 advantage with 3:58 remaining in the half.
Louisburg got off the matt to put together a 63-yard scoring drive, getting on the scoreboard with just 16 seconds before halftime. Much of the yardage came through the air, and the drive ended with a six-yard touchdown pass from sophomore quarterback Austin Terry to senior Will Garza.
"I thought they had a really nice drive right before half," coach Berg said. "They have a lot of tradition at Louisburg. They take a lot of pride in their football team."
But any hope the Wildcats had of changing the game's momentum when they received the second-half kickoff quickly ended. Baldwin's defense forced a three-and-out and the Bulldogs marched 70 yards on the ground in three plays for a touchdown. Senior quarterback Chad Berg scored from 43 yards out to end the drive.
Baldwin plays next Friday at Ottawa in the first game of district play for both teams. Ottawa ended a three-game losing streak Friday with a 20-17 home win against Spring Hill.
With a win, the Bulldogs would be ensured of at least a tie for the Frontier League title.
Baldwin 51, Louisburg 14
Baldwin (6-0, 4-0) 10 14 21 7 – 51
Louisburg (3-3 2-2) 0 7 0 4 – 14
Baldwin scoring: Matt Michels 25-yard field goal; Cornell Brown, three-yard run; Brown, four-year run (kick failed); Joel Katzer, one-yard run (Jack Katzer, rushing PAT); Berg, 43-yard run (Michels kick); Brown, 12-yard run (Michaels kick); Jake Katzer, 14-yard run (Michels kick); Tiler Garcia, fumble recovering in the end zone (kick failed)
Louisburg scoring: Austin Terry six-yard pass to Will Garza (Alex Dunn kick); Dunn, one-yard run (Dunn kick).