U.S.

56 reopens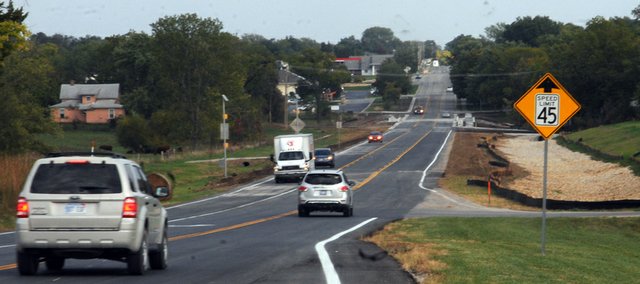 Barricades came down this afternoon on U.S. Highway 56 with the end of two construction projects that have closed the highway since April from Baldwin City to U.S. Highway 59.
Hamm Construction removed the barricades about 3 p.m. this afternoon. Kansas Department of Transportation spokesperson Kimberly Qualls announced soon afterwards that the stretch of highway was now open to unrestricted traffic although some final details and cleanup work remained.
The removal of the barricades came a week after Qualls said the section of highway would be finished before the Oct. 19 and 20 Maple Leaf Festival, which annually draws more than 30,000 visitors to Baldwin City.
The work replaced three narrow bridges on U.S. 56 at the cost of $3.3 million. The eastern-most bridge was in Baldwin City just west of 10th Street and the other two were between the city and U.S. 59.
The bridge replacements were done in conjunction with a $790,000 upgrade to the intersection of U.S. 56 and Lawrence Street. That project added a center turn lane to the highway from 10th Street to Lawrence Street and lowered the roadbed east of the Lawrence Street intersection 6 feet to improve the sight line.
"We're thrilled," Baldwin Elementary School Intermediate Center Principal Dan Walsmith said. "I told our staff today, they've taken their last scenic tour through Baldwin to get to school."
During construction, the only access to the Baldwin Elementary School Primary and Intermediate centers was from Lawrence Street via High Street. That added 20 minutes to morning and evening rides as buses shuttled the indirect route from the two western elementary schools to the Baldwin Junior High School parking lot on the eastern side of town, Walsmith said. It also added time to a bus route serving the western part of the district, he said.
The official KDOT detour during the construction rerouted U.S. 56 traffic at U.S. 59 and Kansas Highway 33 south to Interstate 35, although local residents used much shorter detours using county roads. Nonetheless, the opening of the highway will make it much easier for those in Baldwin City to get to U.S. 59.
"It's great to have it done at last," said Lydia Clark, who works at the Jitters coffee stand on U.S. 56 just east of the replaced bridge.
Clark said she lived northeast of Baldwin City and construction added five minutes to her commute to work. Business was also down a bit during construction, she said.
The project replaced the two rural 24-foot-wide bridges with 44-foot-wide structures, which have 24-foot roadways and 10-foot shoulders. The 27-foot bridge in Baldwin City was replaced with a bridge that accommodates 14-foot east and west driving lanes plus a 12-foot center lane. It also has 5-foot concrete sidewalks on both sides of the bridge.