Baldwin City Council approves first subdivision since start of the recession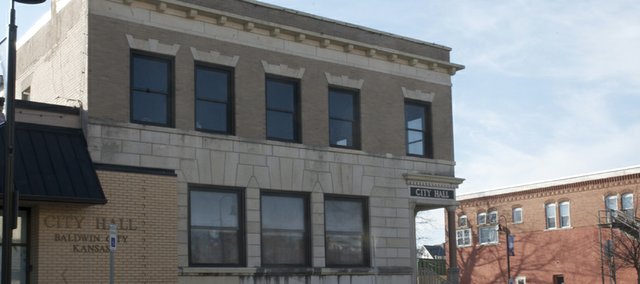 The Baldwin City Council approved Monday the final plat for the first subdivision proposed for the city since the start of the recession in 2008.
Approved was a plat with five single-family residences in the 1200 block of Fremont Street and another four west of a 12th Street cul de sac to be built from Fremont Street south to Grove Street. Lot sizes are from 14,000 to 19,200 square feet.
Brian and Chelsea Sheldon and Robert and Mary Stephens made the application for what was named Bob's Acres, which came to the council with the Baldwin City Planning Commission's recommendation for approval.
City Administrator Chris Lowe said it was discovered after the planning commission's consideration that Bob's Acres abuts a lot on High Street that the city owns. The property, a vacated 13th Street right of way, would ideally serve as a future link to extend to the north a High Street trail now being developed.
But Lowe said there was nothing in the final plat providing the city use of the property to extend a trail. Any trail would extend through a part of the subdivision left undeveloped in the plat and which is unsuitable for development because of its terrain, Lowe said.
To address the omission of an easement, the developers would have been required to go through the documentation process again before resubmitting the application to the planning commission, Lowe said. Neither the developer nor the city wanted to do that, the city administrator said.
Instead, he reached a "gentlemen's agreement" with Brian Sheldon that the section of the plat wouldn't be developed and would remain available for future trail uses, Lowe said. Furthermore, Sheldon agreed to put a rider protecting the city's interest should he sell the property, Lowe said.
The development would preclude developing 12th Street as a through street north from High Street. Lowe said that wasn't a concern because existing homes blocked the extension of 12th Street and the Midland Railway tracks to the immediate west would limit future development in that direction.
Sheldon said after the meeting the homes would be priced from $250,000 to $350,000 with sunny walkout basements. It would be essentially infill development that would require only a 500-foot sewer extension, he said.
One lot was already sold for a custom-built home, Sheldon said. He estimated it would take from four to five years to build out the remaining eight lots.