County approves new water plant east of Lawrence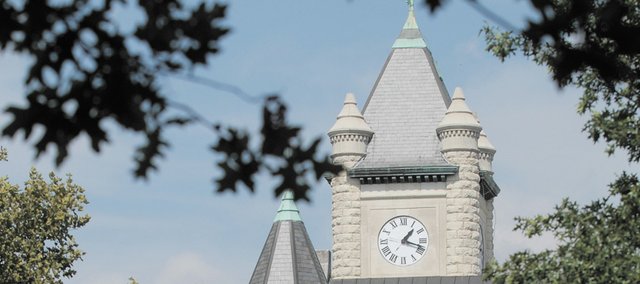 A wholesale water supply district will be allowed to build a new treatment plant east of Lawrence, despite concerns by some that it could encourage suburban sprawl in southern Douglas County.
County commissioners today approved a permit for the plant after a heated discussion about whether it would encourage more residential development in unincorporated rural areas, outside of cities that are served by municipal water systems.
Public Wholesale Water Supply District No. 25 requested a conditional use permit to build the plant near North 1500 Road and East 1750 Road, just east of the Lawrence city limits. That district sells wholesale water to three rural water districts.
District officials said they need the additional capacity because of increased demand, primarily in southwestern Douglas County.
But Commissioner Nancy Thellman, a Democrat whose district covers the eastern one-third of the county, questioned whether it was a good idea to encourage more residential development there.
"Are we setting up something here that's in conflict" with regulations that discourage urban growth outside the city limits? Thellman asked.
Cille King, a Lawrence resident who said her family owns land outside the city limits, urged commissioners to reject the application, arguing it would encourage wasteful consumption of water in rural residential areas.
But Commissioner Jim Flory, whose district covers the western part of the county, bristled at that suggestion, calling it "offensive" to rural residents.
"The water sprinklers that I see on lawns to keep them lush are in the city, not the rural area," he said. "We use sprinklers to water our tomato and squash plants."
Flory argued that the county has development regulations that control residential development in rural areas. He said if people comply with those regulations when they buy property and build a home, the county should not interfere by limiting their access to water.
County Administrator Craig Weinaug explained that the city of Lawrence had tried about 20 years ago to contain residential growth outside the city by raising the prices it charges to sell wholesale water to the rural water districts and by limiting annual increases in the volume they purchase.
But Weinaug said that only resulted in encouraging more rural residents to drill their own private wells, which can also have negative environmental consequences. He said that's when the city and county agreed that the better way to control suburban sprawl was through zoning and subdivision regulations.
That appeared to satisfy Thellman's concerns. Commissioners voted to approve the permit for the new treatment plant on a 3-0 vote.