Baldwin volleyball team bounces back with big week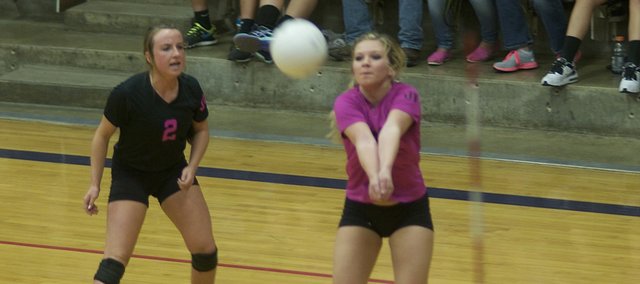 The Baldwin High School volleyball team got back on the winning track in a big way in the last week.
The big week came after Baldwin let an Oct. 1 road match at Louisburg slip away after winning the first two sets.
The Bulldogs didn't lose a set Saturday in winning the Wellsville Invitational Tournament with a 5-0 record. The team returned home Tuesday to down rival Eudora on a night the toughest opponent may have been overcoming the emotion of the Stand Up To Cancer breast cancer awareness and fundraising night.
Coach Jill Brown said her team may have lost focus with the excitement of the evening, especially in the third set.
"It's one of those weeks with a lot going on," she said. "Some of our girls put a lot of work into this night.
"We didn't play as clean of a match as we would have liked, but we're happy to get the win, and hopefully through all the fundraising events involved during the night, are able make a nice donation to the Stand Up To Cancer organization."
A fundraiser that raised money from Bulldog kills may have had the team's top attackers trying too hard, Brown said.
Still, the Bulldogs had little real trouble downing Eudora in three sets, 25-13, 25-8, and 25-22.
Junior Jordan Hoffman led the Bulldogs with 16 kills. Fellow junior Alexia Stein had 10, and senior Morgan Lober had five. Corey Valentine contributed 26 assists.
Saturday, the Bulldogs defeated Seabury Academy (25-11, 25-7), Eudora (25-12, 25-17) and Santa Fe Trail (25-15, 26-24) in pool pay to advance into championship bracket play. There, they defeated host Wellsville (25-21, 25-22) before downing Santa Fe Trail again (25-22, 25-23) in for the title.
"We did a nice job attacking the ball with a hitting efficiency of .357 as a team," Brown said. "We also served very aggressively with a total of 38 aces, which outnumbered our losses."
Brown said it is easy in a five-game tournament to drop a set because of lost focus. That didn't happen to the Bulldogs as they fought through momentum shifts.
"Against Wellsville in the semi-finals and Santa Fe Trail in the championship match, we allowed each of them to go on three- or four-point runs, but we stayed focused and aggressive and won those sets."
The two wins against Santa Fe Trail were big, Brown said.
"They beat us last year at home and are ranked No. 1 in 4A division 2, and ranked sixth in 4A overall. Beating them twice during the tournament — those were great wins for us."
Stein led the Bulldogs with 45 kills and 11 aces. She also had four blocks. Hoffman had 34 kills and 10 aces, Lober recorded 34 kills and four blocks, while Valentine had 70 assists, 16 digs and five aces. Madeline McCrary had 36 digs and Burnett 15.
Next for Baldwin is a home triangular Thursday with 5A Topeka Seaman and Bishop Miege, one of the top teams in 4A. The team will play Saturday at the De Soto Spikefest.