Baldwin cross country teams both third in last home meet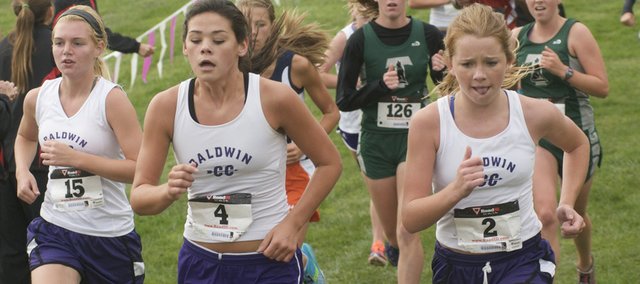 The Baldwin High School girls and boys cross country teams earned third-place finishes in Saturday's Gary Gribble Saucony Cross Country Classic at the Baldwin Golf Course.
With 73 points, the Bulldog boys finished behind 5A Bishop Carroll of Wichita (31 points) and 6A Shawnee Mission Northwest (67 points). The girls' 75 points placed them behind winner Shawnee Mission Northwest (40 points) and Blue Valley Southwest (67 points).
The 11-team boys field and nine-team girls field included mixes of large and 4A schools.
"I thought both teams were more aggressive on Saturday," coach Mike Spielman said. "We also ran our fastest times of the year."
Pacing the girls, once again, was sophomore Addie Dick, who finished the 4K course with a time of 16:11.91 and a 14th-place overall finish. Next for the Bulldogs was another sophomore, Mackenzie Russell, in 16th place (16:14.69). Fellow sophomore Libby Verhaeghe was 18th (16:18.50) and senior Hannah Hutton 19th (16:23.46). Sophomore Jillian Dick was the last Bulldog to score with a 25th-place finish (16:40.48).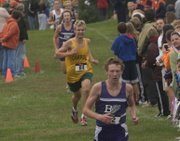 As has been the case the past three weeks, the Baldwin boys were paced by sophomore Dakota Helm's eighth-place finish and time of 16:42.18 on the 5K course. Junior Joe Pierce was next across the line for the Bulldogs with his 11th-place finish at time of 16:50.36. Senior Ethan Hartzell finished close on Pierce's heels in 12th place (16:51.09). Baldwin's two other scoring runners were George Letner in 18th place (17:09.37) and Nevin Dunn in 24th place (17:19.87).
Hartzell said he benefitted from running in a pack through much of the race with Pierce and Helm.
"It makes it more like a training run so you can relax and just enjoy the run," he said.
Hartzell said he took 12 seconds off the time he ran on the same course two weeks earlier and was regaining his form after suffering a stress fracture to his leg last spring.
As they tested themselves the past four weeks against top 4A and larger school competition, the teams have also trained with peak mileage weeks, Hartzell said. The runners are now challenged to maintain that competitive edge against smaller school competition, he said.
That challenge will start Thursday at Sabetha, where the Baldwin teams will compete against a number of smaller schools.
The Sabetha meet will be the last of the regular season as the teams will compete in the Frontier League championships in Ottawa the following week.