Heart bond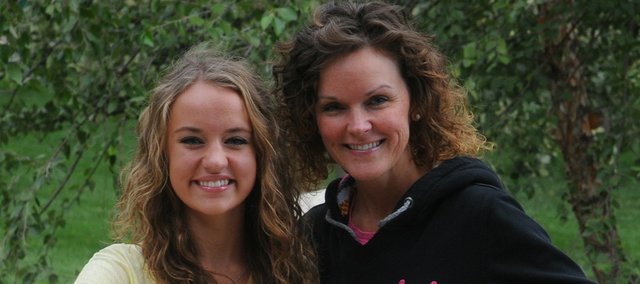 Cassidy Markley says Wes Leonard is never far from her thoughts.
"I think about him a lot," the 17-year-old Baldwin High School senior said. "I wish I had met him. I wore his sweatshirt yesterday."
Sports heart clinic returning Oct. 26
Baldwin City parents don't have to look far for reasons to take advantage of a heart clinic later this month at Baldwin High School.
The community has experienced the death of three young athletes from heart conditions in just more than a decade.
The most recent and best publicized was the death of 19-year-old former Baldwin City resident Wes Leonard in a 2011 Michigan high school basketball game. But Kim Bergan first arranged for the St. Luke's clinic to visit BHS after her 19-year-old daughter, Alex Bergan, then a freshman volleyball player at Coffeyville Community College, died in 2008 following an appendectomy. Five years earlier, 13-year-old Krystal Bateson died at a summer softball tournament.
Jocelyn Leonard said her son's death was a warning to parents that their active, athletic teenagers weren't immune to heart problems. A thorough autopsy Sports Illustrated Magazine provided showed the genetic defect in the teen's heart was made worse from sports conditioning and activities, Leonard said.
"In Wes' case, it would have been better if he had hung around on the couch," she said. "He worked out four or five hours a day. That made the build-up of fatty tissue on a wall of his heart worse."
Lori Markley said her family's story is the opposite of that of the Leonards and Bergans because her daughter Cassidy attended last year's sports heart clinic. A hole in her heart was discovered at the clinic, which required open-heart surgery to repair.
"The doctors said if this would have been discovered later in life there could have been permanent heart damage," she said. "They said if it had not been found, it could have taken five or six decades from her life. That's a lot of life."
Her daughter's experience prompted Markley to take over the organizing of the clinic from Bergan this year
The exams at the clinic, which will a include physical examination, electrocardiogram, echocardiogram and review of the results by two attending cardiologists, will be given from 8 a.m. to 1 p.m. Oct. 26 at Baldwin High School. There are slots for 50 athletes from ages 13 to 24. The cost is $60. Those wishing to make an appointment should call Markley at 785 979 3056.
"That's less than parents pay for a pair of athletic shoes," Lori Markley said. "To have your child's heart fully evaluated at that cost is a bargain."
Having attended the now closed Marion Spring Elementary School, Markley never meet Wes Leonard or his family before they moved from Baldwin City to Fennville, Mich. It was there in March 2011, that the 16-year-old Wes died of cardiac arrest seconds after making the winning shot, which assured his high school finished with an undefeated regular season.
Although at the time the sudden death shocked the Leonards' friends and family in Baldwin City, Markley became linked to the teen she never knew when her mother, Lori Markley, arranged for her to attend a St. Luke's Hospital heart sports clinic at Baldwin High School.
"Because all the news of Wes was so fresh in my mind, I made appointments for her and her sister, McKinley," Lori Markley said.
"I never dreamed they would find anything," Markley said. "They saw it right away. They took me to a room and brought Mom in. They told me I had a hole between the upper chambers of my heart."
Looking back, Markley and her mother said there were signs all was not right.
"I had to take deep breaths every minute," Markley said. "I was in the school musical last fall. When I was doing my singing and dancing numbers, it was so hard to catch my breath."
Helping provide comfort after the diagnosis was the Wes Leonard Art Team sweatshirt she received from the deceased teen's mother, Jocelyn Leonard, after her mother reached out to Leonard and Kim Bergan, who lost her daughter Alex Bergan at the age of 19 after an appendectomy.
"When Cassidy was diagnosed, I emailed her," Lori Markley said. "Because of what happened to those two mothers, I needed to thank Kim and Jocelyn, who through their tragedies were working to spare other families from losing their children."
Two weeks after her diagnosis at the clinic, a follow-up exam determined the hole in Markley's heart was 1.25 inches wide. That proved too large to be patched through a "catheterization" procedure, forcing the teen to undergo open-heart surgery in March.
"I didn't know the extent of the surgery until pre-op when they told me everything," Markley said. "It was harder than I thought it would be. I was in the hospital four days over spring break, but I never missed a day of school."
Markley and her mother are now pleased she had the surgery rather than the less invasive procedure.
"They permanently repaired my heart rather than put in a synthetic patch," Markley said. "There's a 2 percent chance a patch can cause irreversible damage to the heart in the future. I don't have to worry about anything going wrong."
Tests since her surgery show Markley's heart has returned to normal size. She started noticing improvements soon after returning home.
One area where Markley notices improvement is in her music. Even before the surgery, Markley was selected to play oboe in the state honor band.
"Playing the oboe was much easier," she said. "I just noticed in general breathing was easier. I didn't have to take deep breaths anymore."
Markley met and thanked Leonard when the former Baldwin vocal music teacher returned from Michigan in May to speak at the Baldwin High School graduation.
"I feel like we share a bond," Markley said. "We both love music. We share that connection."