Petitioner told city looking to improve safety at
U.S.

56 crosswalk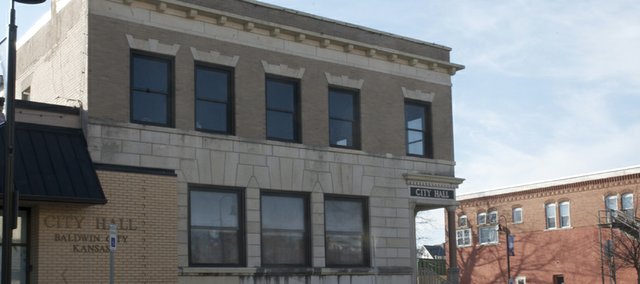 The Baldwin City Council assured a petitioner that the city was aware of safety concerns at a U.S. Highway 56 crosswalk and was already exploring solutions.
Shai Jackson presented the council with a petition with 210 names, asking the council to support a request that the Kansas Department of Transportation place a crossing light at the crosswalk on U.S. 56 at Fourth Street. Jackson started the petition drive after being cited in July for failure to yield to a pedestrian when she couldn't see a child waiting at the crosswalk because the rising sun was in her eyes.
Speaking in support of Jackson, resident Susan Jarvis said her daughter suffered a broken leg when hit by a car while riding a bicycle in the crosswalk two years ago.
Jackson told the council she emailed KDOT district engineer Steve Baalman about her concerns. In an emailed response, Baalman said KDOT would have to do a study to determine if a change was warranted and that the city would have to propose a change for the department's consideration. The email also said the city would be responsible for the cost of any upgrade but that federal money could be available. Finally, Baalman indicated he would have to investigate further but was unaware of any past city request for a signal light at the crosswalk.
The city had made a request for a light at the site, but that was before Baalman became district engineer two years ago, City Administrator Chris Lowe said.
"We've asked about this before," he said. "KDOT's position is the crosswalk is sufficient and adequate. They don't recommend any changes."
Faced with that position, the city should move ahead with a study with which it could justify the need for a crossing light like that on U.S. 56 at Eighth Street or a high-intensity light above the roadway, which Jackson said she favored.
Council members said they, too, wanted safety improved at the crosswalk and explained to Jackson they were already studying the issue. Christi Darnell said she wanted the crosswalk enhancement to be studied as part of a comprehensive plan to get children to school safely, which also would include more sidewalks. As part of that effort, the council's public safety committee would meet >>met<< Wednesday with city public works supervisor Bill Winegar and Baldwin USD 348 Superintendent Paul Dorathy, she said.
Councilwoman Kathy Gerstner told Jackson and her supporter the city was doing what it could to make the crosswalk safer. At the request of the public safety committee, there is a larger police presence at the site in the mornings to remind motorists the crosswalk is there, she said.