Baldwin cruises to victory against De Soto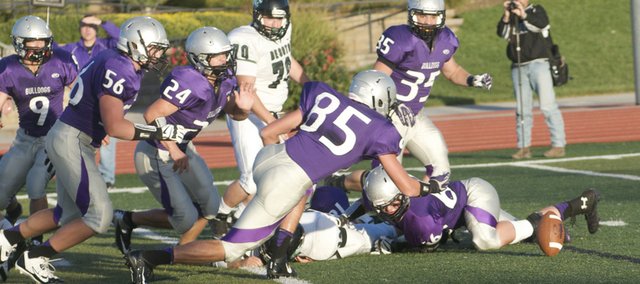 Two second-quarter touchdowns in less than a minute helped power the Baldwin Bulldogs past Frontier League foe De Soto High School, 49-7.
The game was played Saturday at Lawrence Free State after a Friday storm forced cancellation of the contest. Scheduled Baker University football and soccer games at the university's Liston Stadium, which Baldwin uses for home games, necessitated moving the game to Lawrence.
Not unlike their previous game played on a day with no school, the Bulldogs were a bit out of sync early in the Saturday contest.
"It's a lot better when we have all day to get focused. You have to be more self motivated" said senior offensive guard Quinn Twombly. "There wasn't a home field advantage."
The unusual Saturday game on a strange field contributed to his team's early inconsistency on offense, coach Mike Berg said. But he also credited De Soto's defensive scheme upfront.
"Once we got it figured out, our offensive line did a good job of really firing off the line," Berg said.
Despite not scoring on its first offensive possession, turning the ball over on a fumble on another first-half drive and getting flagged for a couple of personal fouls, the Bulldogs still led 28-7 at halftime.
A mishandled exchange in the De Soto backfield inside its own 8-yard line set up the Bulldogs' sole first-quarter score. Senior Cornell Brown ended the ensuing two-play drive with a three-yard touchdown run.
The Wildcats drove the ball 55 yards on their next possession, before failing to convert on fourth down on the Bulldogs' 6-yard line.
That set up the Bulldogs' longest play of the season, when on the next play Chad Berg broke loose for a 94-yard touchdown run with 9:14 remaining in the second quarter. After getting the ball back on a fumble recovering, the Bulldogs struck again 23 seconds later with a 42-yard pass from Berg to senior Cornell Brown.
Berg scored again in the half on a 31-yard run, before De Soto ended the first half scoring on a kickoff return from senior Jared Jenkins.
The second half was all Baldwin as the team ground out drives behind its offensive line of 70, 72 and 74 yards. The drives ended with touchdown runs by Brown from 3 yards out, Jake Katzer on a 1-yard run and a three-yard run by Tiler Garcia.
With the win, Baldwin is 5-0 overall and 3-0 in the Frontier League. De Soto is winless overall and 0-3 in the Frontier League.
Berg credited the team's 16 seniors with providing leadership during the seaon's successful start. With all its success, the team can get better, he said.
"There's things we have to fix," he said. "We need to get better. That's OK. I don't want to peak right now. We want to be playing our best in the playoffs."
Baldwin 49, De Soto 7
Baldwin (5-0, 3-0) 7 21 14 7 - 49
De Soto (0-5, 0-4) 0 7 0 0 - 7
Scoring: Baldwin: Cornell Brown 3-yard run, Matt Michels kick; Cornell Berg 94-yard run, Tyler Courtney kick; Berg 42-yard pass to Brown, Michels kick; Berg 31-yard run, Courtney kick; Brown 2-yard run, Michels kick; Jake Katze1-yard run, Courtney kick; Tiler Garcia 3-yard run, Michels kick.
De Soto: Jared Jenkins, kickoff return, kick good.