KDOT

:

U.S.

56 to open 'around' next weekend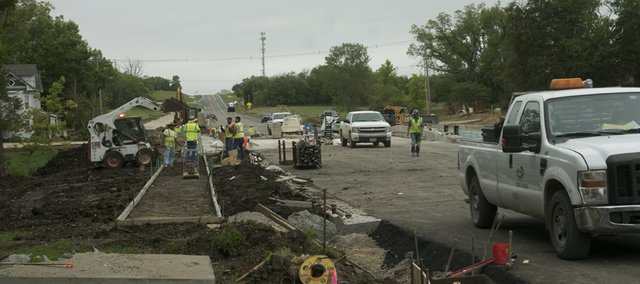 The closed bridges on U.S. Highway 56 will be reopend before the Maple Leaf Festival, according to a Kansas Department of Transportation spokeswoman.
Kimberly Qualls, KDOT public affairs manager for northeast Kansas , said KDOT plans to reopen U.S. 56 between U.S. Highway 59 and Baldwin City "around" the weekend of Oct. 12 and 13, about a week before the Oct. 18-20 festival. Weather would determine the exact date, she said.
Since the start of construction in April, U.S. 56 has been closed from 10th Street west to East 1400 Road. The official KDOT detour rerouted U.S. 56 traffic through Wellsville and Ottawa, but most Baldwin City residents used shorter detours using county roads.
The easternmost of the bridges replaced is just west of the 10th Street intersection in Baldwin City. The other two bridges are west of the city limits, with the westernmost bridge located about 1.5 miles west of Lawrence Street.
KDOT combined the bridge replacements with a U.S. 56 enhancement project, which added a turn lane to the highway east of Lawrence Street. The project also lowered the highway's roadbed by six feet east of Lawrence Street to improve motorists' sightlines.
Crews Thursday morning were installing sidewalks and curbs on the south side of the U.S. 56 bridge in Baldwin City. The asphalt approaches were laid Tuesday and Wednesday to the completed bridge.
The $4.1 million project replaced two rural 24-foot-wide bridges with 44-foot-wide structures, which have 24-foot roadways and 10-foot shoulders. The 27-foot bridge in Baldwin City was replaced with a bridge that accommodates 14-foot east and west driving lanes plus a 12-foot center lane. It also will have 5-foot concrete sidewalks on both sides of the road.
Baldwin City Administrator Chris Lowe said he recently called KDOT to inquire about the progress on the bridges at the request of jittery Maple Leaf Festival officials. He received the same assurance the highway would be reopened before the weekend of Oct. 12 and 13.
"I've seen where they had folks out there working on Saturdays and Sundays, so they've been throwing a lot of overtime out there to get this project done," he said.