Five questions: Touring local farms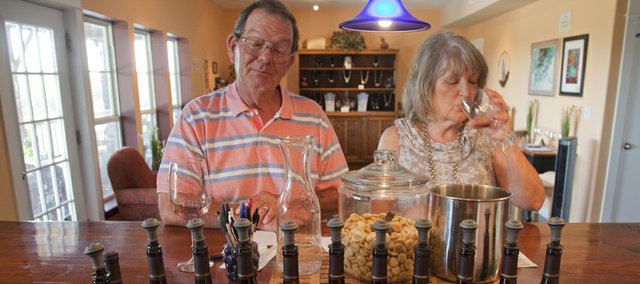 The Kaw Valley Farm Tour is Saturday and Sunday throughout the area. This week's five questions are taken from the Kaw Valley Farm Tour website.
Q: When did the Kaw Valley Farm Tour get its start?
A: This year marks the ninth annual tour, which takes place the first full weekend in October.
Q: Which farms are on the tour?
A: Ad Astra Alpacas, Blossom Trail Bee Ranch, Hanna Buffalo Company, Lulu's Garden, Vesecky Family Farms (Baldwin City), Holy-Field Vineyard and Winery (Basehor), Gieringers Orchard, White Tail (Edgerton), Davenport Orchards, Vineyard and Winery, BlueJacket Crossing Vineyard and Winery, (Eudora), Amy's Meats, Hoyland Farms, Juniper Hills Farms, LLI Tree Farm, Pendleton's Country Market, The Red Tractor Farm, Vertacnik Orchard, Wohletz Farm Fresh (Lawrence area), Crum's Heirlooms, Manna Meadows (Bonner Springs), Lamborn Farm (Leavenworth), The Henrys' Plant Farm (Lecompton), K-State Research and Extension Center, Landeria Farm (Olathe), Fieldstone Orchard and Farm (Overbrook), Iwig Family Dairy (Tecumseh) and Screamin' Oaks Farms (Tonganoxie).
Q: What can be found at these farms?
A: Various farm animals, as well as fruits, vegetables and wines. Other food products and soaps also are available.
Q: Where can I purchase tickets?
A: Tickets, $10 per carload, can be purchased at all participating farms and at select locations in Lawrence, such as The Merc Community Mercantile, Cottin's Hardware and Rental, Lawrence Visitors Information Center and K-State Research and Extension. Tickets can also be purchased at kawvalleyfarmtour.org.
Q: How long will the tours be operating?
A: Tour hours are 10 a.m.-6 p.m. Saturday and Sunday. Farms will have guided tours and farmers will be available to chat about their farm practices. Many will have educational displays and some will have farm products for sale.