Baldwin High School junior takes up cancer fight in honor of late father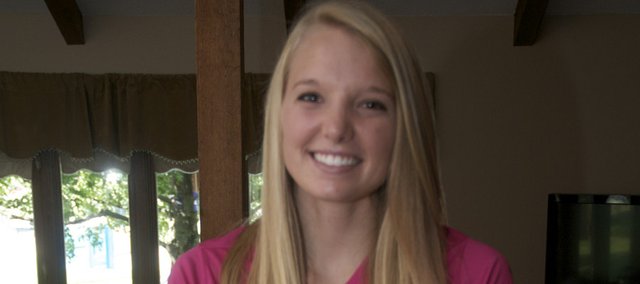 Sitting across from each other at a table Thursday, Marilee and Corey Valentine had one of those family moments when a mother wants to say something she knows will embarrass her child.
"She doesn't want me to say this, but I'm proud of her," Marilee Valentine said after a brief hesitation. "She took a very difficult situation in life and made it into a positive."
Her daughter didn't respond immediately with words, but her right hand touched a white rubber bracelet on her left wrist. The white bracelet is a near-constant accessory.
"I almost never take them off," Valentine said. "The only time I don't wear them is when I'm playing volleyball, but then I put them on my water bottle so they're still with me."
The message on the white band says "R.I.P. Dad. Forever in my heart."
The white bracelet and an identical one worn by her brother, Dayton Valentine, now a freshman at Kansas State University, commemorates their father, Jeffery Valentine, who died in November 2010 from a rare form of colorectal cancer.
While remembering and mourning her father, Valentine has joined the battle against the disease that claimed his life. This fall, the Baldwin High School junior organized a Stand Up To Cancer Club at the high school.
She became aware of the Stand Up To Cancer organization when watching this year's Major League Baseball All-Start Game, Valentine said. The motivation to start the club came soon after.
"The teachers at the high school nominated me to attend the Hugh O'Brian Youth Leadership Camp this summer," she said. "One of the things that got to me there was when a teacher, a cancer survivor from Andover, told us time was finite. If you have a goal in mind, now is the time to seize the moment."
Campers were urged to get involved in community service projects, Valentine said. With that encouragement, she chose to start the Stand Up To Cancer Club because of the organization's focus on cancer research and directing money it raises to a "dream team" of researchers and scientists, she said.
The high school club got off to a great start at its initial meeting in August, Valentine said.
"We had 58 students show up for the first meeting," she said. "That blew me away. That's a quarter of the school."
Subsequent meetings didn't attract as many students, but there are about 25 core members, many of whom have been directly touched by cancer, Valentine said.
The club is exploring activities for later in the year, Valentine said. Meanwhile, members are preparing for two upcoming events.
The first will be the Baldwin High School volleyball team's Dig Pink night, an annual breast cancer awareness and fundraiser set for its home match Tuesday against arch-rival Eudora. The night also will be a "pink out" night with all attending encouraged to where pink. Proceeds from a bake sale, T-shirt sales, silent auction, special box-seating drawing and other activities will be donated to Stand Up To Cancer, Valentine said.
"We're hoping for a big turnout," she said. "It will be inspirational. It's my favorite night of the season."
Next will be an event during the Oct. 11 Baldwin High School home football game against Louisburg, which will be modeled after the All-Star Game ceremony in which she first learned of Stand Up To Cancer, Valentine said. Those in attendance will have the opportunity to rise from their seats and remember someone for whom they are standing up to cancer, she said.
With the club off to a good start, Valentine is confident that it will be a fixture at the high school after she graduates in the spring of 2015.
"One of the goals is that the club continue on," she said. "I think it will."