Lions Club members test for young vision problems in the blink of an eye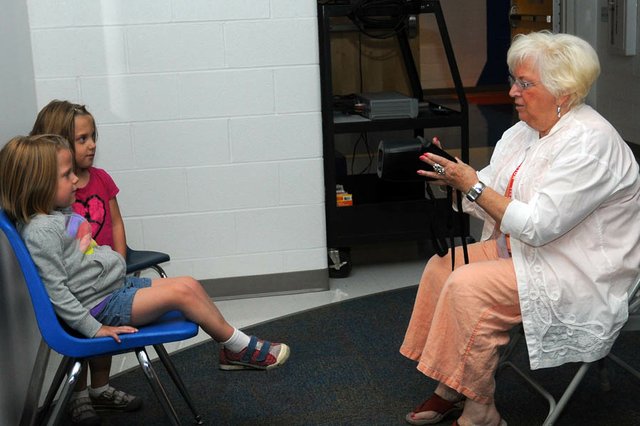 Four-year-old twins Rylee and Jordan Webb weren't fidgety during their eye exams last week at Baldwin Elementary School Primary Center, but it wouldn't have mattered if they were.
Holding a device that looked much like a digital camera, Baldwin City Lions Club member Sheryl Cleverley took an infrared digital scan of the twins' eyes in just a blink. Less than a minute after Rylee's scan, Club President Mike Gammage printed out a report on her vision.
"She's fine," he said.
The report listed as "in range" Rylee's nearsightedness, farsightedness, astigmatism, pupil size deviation and eye alignment. A space for "potential conditions" was blank.
He and Cleverley were visiting the school with the PediaVision Spot Vision Camera that District 8 of the Kansas Lions Club purchased for school screenings of young students, Gammage said.
The device is being taken to elementary schools to test children too young to take traditional vision screening exams, which involve identifying letters or objects, Baldwin school district nurse Carrie Enick said.
The technology is also much faster than traditional methods, Enick said. In two visits to the school last week, Cleverley and Gammage screened 158 children from the age of 3 months through kindergarten, she said. Of those, 12 tested out of range for various conditions. Their parents were given printouts and encouraged to make follow-up appointments with optometrists for further testing.
"It's a pretty amazing machine," Enick said. "I am anxious to get some feedback from doctors as those students follow up."