Boys Scouts square off in re-creation of Battle of Black Jack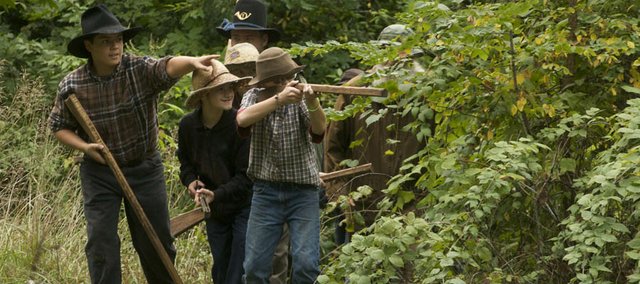 Thirteen-year-old Ryan Todd is a veteran of Civil War battles.
Dressed in the blue of the Union Army, he and his father have participated in sesquicentennial re-enactments of the Battle of Gettysburg in July, the Battle of Shiloh in Tennessee last year and lesser known battles ones closer to home.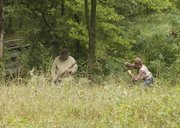 On Saturday at the Black Jack Battlefield and Nature Park, Todd put his uniform away and went into action for the opposing cause.
"I switched sides," he said. "I'm playing a pro-slavery fighter with Henry Pate."
Baldwin City Troop 65 Scoutmaster Tom Farmer said Todd approached him about Boy Scouts re-enacting the battle during a Scout tour of the battlefield earlier this year.
One problem was the Baldwin City troop didn't have enough Boy Scouts to re-enact a battle that had 29 men fighting with Brown and 23 men in Pate's forces. To help swell numbers, Scout troops from Eudora and Wellsville were invited to participate. But with Saturday's rain, only the Eudora Scouts participated.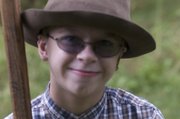 Scouts were rewarded for their participation with a national trails patch.
The Scouts hit the battlefield Saturday afternoon carrying wooden rifles carved for them and dressed in a mix of period and contemporary clothing. Scout leaders and re-enactors augmented their numbers.
Helping the Scouts with the details of the battle was Kerry Altenbernd, vice president of the Black Jack trust.
The actual battle took about three hours from the time a Pro-Slavery sentry spotted Brown's forces and Pate surrendered after the Free State fighters started killing the his men's horses. The Scouts condensed the action to about 30 minutes, punctuating the actions with vocalized sounds of gunfire and hurled insults such as "Is that all you got you dirty Abolitionist."
Fourteen-year-old Alex Lundry of Baldwin City, who toured the battlefield with his junior high school class, said he gained a greater understanding of the battle from the re-enactment.
"One thing that stood out was how spread out John Brown's men were and how they came together at the end," he said.
Once the first re-enactment was completed, the Scouts switched sides to act out the battle again, giving Lundry and his fellow Scouts a chance to gain fresh insights.
Farmer and Todd said they were pleased with the re-enactment and hoped it would become an annual event, involving more local Scout troops.
"I really think this was a great success," Todd said. "I hoping we can do it every year and more Scouts can do this."