Christmas season blooming at Cranberry Market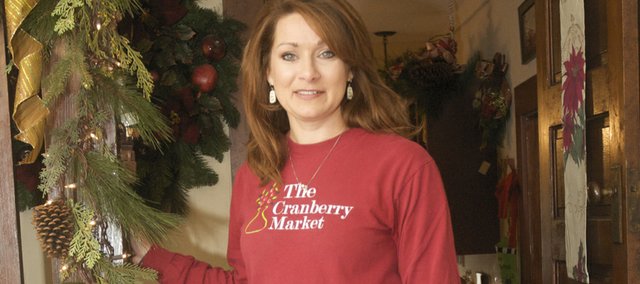 With a staircase lined with potted poinsettias and shelves filled with Christmas decorations, there's no mistaking the season at Cranberry Market.
"We're up and ready for Christmas," said owner Kara Cole. "We have tree and home decorations with unique Christmas gift ideas."
Cole is the latest owner of what she said was one of Baldwin City's oldest businesses, which has had a number of owners and locations through the years. After buying the business about a year ago, Cole relocated the business to a former residential home at 116 Sixth St. The move to a near-century-old house a half block south of the intersection of U.S. Highway 56 and Sixth Street has been good for business and a hit with customers, Cole said.
Cranberry Market is an FTD floral shop, and Cole said that was the connection that led her to the business.
"I grew up with a sister who had a flower store," she said. "I managed it (Cranberry Market) for a little more than a year when she owned it. That made me start thinking about buying it."
Family ties also played a role in the fudge offered at the shop. Cole said her mother, Sally Brehm, has a kiosk at the Boot Hill Museum in Dodge City, where she sells fudge she makes at home in a large fudge pot.
"We sold 35 pounds at Maple Leaf," she said. "We've sold 25 pounds since the festival. I'm going to bring back 35 pounds on Friday. That should get us through Christmas."
There may not be crowds lined up at the Cranberry Market's doors before opening on Black Friday, but the holiday season is important to the shop. Other big business periods are Valentine's Day, May with graduations and Mothers' Day and, of course, the Maple Leaf Festival, Cole said.
Holiday tree and home decorations currently crowd the store. But there is still room for those items that are mainstays throughout the year, including European soaps, candles and sweets, Cole said.
Also popular are cards, books and bookmarkers, Cole said.