Baldwin school board exploring Vinland elementary options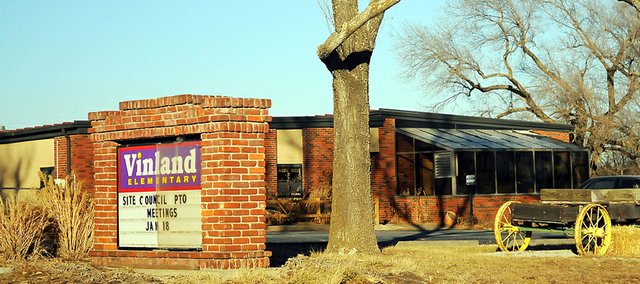 There was no immediate response from 17 community colleges to a Baldwin school district invitation to use Vinland Elementary School but district officials maintain hope the colleges could still have interest in using the closed school for vocational classes.
The inquiries were sent out after the October USD 348 board discussed the future of the school, which has been closed since the spring of 2012.
With the decision in September to sell the old school building and gym on Chapel Street to Kansas City, Mo., developer Tony Krsnich, Vinland is the only closed school the district still owns.
Johnson County and Neosho County community colleges expressed interest last year in using the Vinland school for vocational classes. But Superintendent Paul Dorathy said those colleges instead moved into space available in the Lawrence school district.
Dorathy expressed some confidence in October that other community colleges would have an interest in offering classes at the closed school and asked for the board for the authority to contact the colleges about interest in using the building's gym for vocational classes.
Dorathy said it wasn't surprising the community colleges contacted didn't immediately respond. They would have to research the opportunity and develop a proposal before contacting the district, he said.
The superintendent told the board in October it shouldn't expect a community college to pay rent for the use of the old school because a college would have to make improvements before classes could be offered. Because of that upfront expense, a college would want a five- to 10-year commitment for the space. The advantage to the district would be a community college tenant would help with utilities, maintenance and insurance at Vinland, he said.
There are parties interested in buying the building, Dorathy said. He didn't know how serious the interest was or how much would be offered.
The board is still reluctant to sell the school because it provides an overflow option should enrollment growth at the Baldwin Elementary School Intermediate Center grow beyond its capacity. It also provides possible space for junior high and high school program, although transportation to and from Vinland does present problems.
For those reasons, board member Sandy Chapman said she was not interested in selling the school for the kind of low prices the district has received for the Chapel Street properties. Her asking price would be the $800,000 it would cost to build a four-classroom extension at the intermediate center, she said.
The board asked Dorathy to prepare estimates of enrollment growth before it again considers the subject in December.