Fourteen Baldwin High School footall players named to all-league teams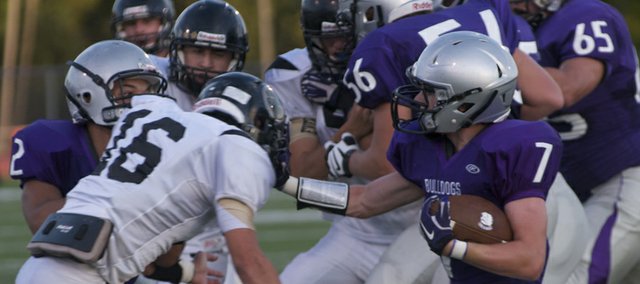 As the Baldwin High School plowed through the Frontier League to claim undefeated league championship, Bulldog coach Mike Berg constantly credited the team's success the offensive line.
All-league Bulldogs
First team: Chad Berg, running back, defensive back; Cornell Brown, running back, Tim Craig, wide receiver, linebacker; Luke Fursman, wide receiver; Christian Gaylord, offensive line; Colton Stark, linebacker; Quinn Twombly, offensive and defensive lineman.
Second team: Gaylord, defensive line; Fursman, linebacker; Jake Katzer, linebacker, running back; Stark, offensive line.
Honorable mention: C. Brown, defensive back; Michael Burton, wide receiver: Tyler Davidson, offensive line; Tiler Garcia, defensive line; Joel Katzer, linebacker, running back; Reese Randall, offensive line Matt Torenden, defensive line.
His coaching peers in the league saw much to like, too, selecting all five members of the offensive line to Frontier All-League teams.
Earning first-team honors were senior left guard Quinn Twombly and junior left tackle Christian Gaylord. Senior Colton Stark was named to the second team and senior Reese Randall and junior Tyler Davidson selected to the honorable mention team.
Baldwin's postseason recognition didn't stop with the offensive line. Fourteen Bulldogs were named earned all-league recognition and eight were named to the first team.
Three Bulldog seniors, quarterback Chad Berg, Tim Craig and Twombly, were selected to the first team on both sides of the ball.
Twombly was named to the first-team defensive line. He finished the Bulldogs' regular season with 16 solo tackles and 25 total stops.
Berg was picked to the defensive team as defensive back and was one of five running backs chosen for the first team, along with fellow Bulldog senior Cornell Brown. Berg ended the regular season with 1,232 rushing yards and 14 touchdowns. He completed 33 of 54 passes for 658 yards and 10 touchdowns against two interceptions. Brown ran for 796 yards and 15 touchdowns in the regular season and caught 11 passes for 267 yards and five scores. He also threw for one touchdown.
Craig was named a first-team defensive back and wide receiver. Craig caught eight passes for 161 yards and four touchdowns. Senior Luke Fursman was also a first-team wide receiver honoree and was named to the second team as a linebacker. Fursman ended the regular season with nine catches for 152 yards and two touchdowns. He also was credited with 39 tackles, of which 26 were solo, and one sack. Senior Michael Burton (three regular season catches for 80 yards) was an honorable mention.
Stark was selected to the first team at linebacker. He totaled 41 unassisted tackles, 66 total tackles, 10 tackles for loss and two sacks.
Named to the second team at linebacker was sophomore Jake Katzer. He led the team with solo tackles (49) and total tackles (71). He also was named a second-team all-league running back. He completed the regular season with 629 yards on 93 carries and 10 touchdowns.
Twin brother Joel Katzer was an honorable mention all-league performer at linebacker and running back. In the regular season, he recorded 33 solo tackles, 49 total tackles, eight tackles of loss and three sacks.
Gaylord was a second-team defensive line selection. He finished the year with 13 solo tackles and 21 total tackles. Named to the honorable mention squad were senior Matthew Torneden and junior Tyler Garcia.