Three
BHS

soccer players named all-state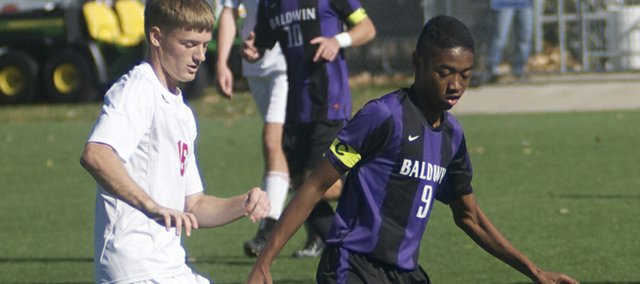 The Baldwin High School boys soccer team placed four players on the Class 4-1A All-State team and seven on the All-Frontier League team.
The Bulldogs ended the season with a school-record 17-3-1 record and advanced to the state semifinals for the first time in school history.
Bulldogs earning first-team all-state recognition, as voted on by the Kansas State Coaches Association, were senior co-captains and midfielders Russell Cloon and Nick Joslyn. Defensive player Austin Chapman also was named to the first team.
Joslyn scored 40 career goals for the Bulldogs, scoring nine as a sophomore, 15 as a junior and 16 his senior year. His 31 career assists gave him 111 career points, with goals counting two points and assists one. Joslyn led the team in assists his junior and senior year and was second in scoring both years.
Cloon found the net 39 times in his four-year career at Baldwin High School, earning three goals as a freshman, six as a sophomore, 17 as a junior and 13 this year. He led the team in scoring as a junior and was third this year.
Earning second-team all-state honors was forward Duncan Murray. The senior led the team in scoring this season with 19 goals.
Joslyn and Cloon were also named to Frontier League first team. First-team all-state designee Chapman was a second-team Frontier League performers, where he was joined by Murray and Joel Dixon.
Earning All-Frontier League honorable mention honors were senior defensive stopper Hunter Young and senior goalkeeper Tyler Courtney.
The coaches also named Joslyn an Ben Growcock to the 4-1A First-Team Academic Team. Both seniors carry 4.0 grade-point averages.